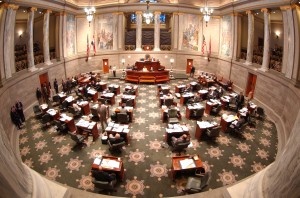 JEFFERSON CITY, Mo. – After turning the Senate into the legislative dystopia they promised following the Republican vote to force a debate on "right-to-work" earlier this week, Democrats here sat down on their nearly three-day filibuster – allowing a measure to extend the state's Federal Reimbursement Allowance to pass without much debate.
"This has been on everybody's desk for days," Sen. Kurt Schaefer said while introducing the bill, yet another time this week.
The bill, which passed unanimously and is now on its way to Democratic Gov. Jay Nixon's desk, will allow the state to recoup nearly $3.5 billion for the its Medicaid population.
"This is a very important piece of legislation for not only myself, but other people on the other side of the aisle," said Sen. Jamilah Nasheed, D-St. Louis. "We don't want to throw the baby out with the bath water."
Senate Minority Leader Joe Keaveny, D-St. Louis, negotiated for much of the day with Senate Majority Leader Ron Richard, R-Joplin to reach an agreement for the Senate to move forward on the Medicaid funding mechanism.
"I think it is incumbent on us, politics aside, to take care of that population," said Keaveny.
Richard, speaking after the vote, said, "the people of Missouri are better off for us working through this for the last few hours."