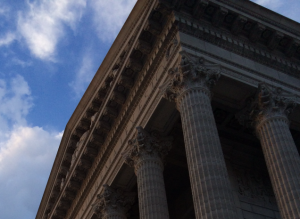 JEFFERSON CITY, Mo. — A female intern from the University of Central Missouri who had worked for State Sen. Paul LeVota, D-Independence, left the state Capitol this March and never returned to work, according to other interns who knew her through the program.
Her exit came with a short note from the university, according to a LeVota confidant, that said she and had left to "work on special projects." For then, that was that.
But last month, the University of Central Missouri reached out to and was joined on the trail by the Missouri Senate to assist in its Title IX investigation to probe any potential wrongdoing by the young woman's superiors in Jefferson City that might have prompted her to want to leave her post.
A version of this article first appeared in the Joplin Globe.

Marga Hoelscher, the Missouri Senate administrator, said in a letter to the Globe on Wednesday that documents related to the investigation were closed to the public.
"Due to the sensitive nature of a university Title IX investigation, we will not provide any further comment," she said.
When asked about the investigation, Senate Majority Leader Ron Richard, R-Joplin, only pointed to the Senate's statement.
Jeff Murphy, director of university relations at UCM, said while he would not comment on an ongoing investigation because of academic privacy laws, a Title IX investigation could be commenced depending on the reason an intern left an office. "The university strongly supports the provisions of Title IX and what it means for the safety and security of campus members and guests," he said in an email.
The Title IX law was passed by the U.S. Congress in 1972. Its original purpose was to protect women from discrimination in academia. The law has been used to help women advance in activities on campus that had been dominated by men such as athletics and, more recently, "sexual harassment of students, including sexual violence and other forms of sexual misconduct," according to UCM's website.
Murphy, in April, said that the school's intern program had not entirely left the Capitol, but added that he "cannot comment on an individual student's academic program of study, or with regard to any situation which could potentially affect a student's confidentiality regarding their academic studies."
"The university has a long and successful history of providing internship opportunities for our students in Jefferson City, and we expect these programs will continue," he later added.
LeVota, a 47-year-old who is married with two daughters, attended UCM (then Central Missouri State University), where he received his undergraduate degree. He served in the state House for eight years and was elected minority leader before leaving in 2010. LeVota returned to state politics in 2012 when he was elected to the Senate.
Ron Berry serves as LeVota's chief of staff. Berry oversees the staff as well as the interns. Often, LeVota is also joined in his office by his brother, Phil, a Kansas City Democratic heavyweight and former prosecutor who also lobbies the Legislature.
In an email response to the Globe, Berry said he had not been informed of any investigations. Initially, neither LeVota nor his brother would speak with a reporter about the investigation on the record.
But, after the Globe's report appeared Wednesday night on the newspaper's website, LeVota issued the following statement:
"Recently, the Missouri Capitol was buzzing about the Speaker of the House and his relationship with an intern. Recently, there have been unconfirmed rumors about the interns in the Missouri Senate program and other interns in the Missouri House. I understand the need for universities to look into rumors, even unsubstantiated rumors. I would be open to any university taking a further look at the experience of any of my legislative interns. I had the honor of working with five students from several universities across the state this spring."
LeVota, in his statement, said he had never been informed by the university, or by either a male or a female intern from UCM who he said both left his office, of any issues they experienced other than they were needed back at the school for other projects. The male intern, who previously had worked in another office at the Capitol, worked for LeVota half a day a week.
"The remaining three interns assigned to my office had a great experience and finished the session. None have voiced any issues in their internship, nor any reported that either of the UCM interns had any problems," LeVota said in his statement. "Now with the recent climate, rumors and speculation abound and I am upset that any of these young people that come to experience the legislative process would be subject to sensationalism."
LeVota's female intern left Jefferson City around the same time Missouri Southern State University in Joplin pulled all of its interns from the Capitol. It was later learned that one of the interns, a 19-year-old freshman, had exchanged sexually suggestive text messages with John Diehl, who was House speaker until he recently stepped down from his positions as speaker and as state representative.