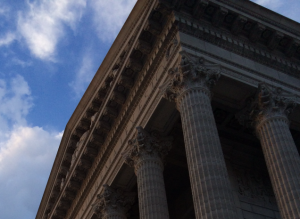 JEFFERSON CITY, Mo. – Without any dissent, the Missouri House elected Rep. Todd Richardson the next Speaker of the House, filling a void left by former Rep. John Diehl, the Republican of St. Louis who was forced to resign when it was revealed he had exchanged innuendo laced text messages with a 19-year-old intern.
The nomination of a new speaker, an event typically reserved for the first day of a new General Assembly, took place on Friday, the last day of what was a tumultuous week of a tumultuous session for the Missouri General Assembly.
Richardson gave brief remarks after being sworn-in by Missouri Supreme Court judge Patricia Breckenridge. He thanked the lawmakers for electing him, but on this busy day, said it wasn't "one for rhetoric," and went immediately to the business of the House.
"Today, we get back to work," he said, forgoing a long speech.
Diehl – a conservative fighter who ushered through a tax cut for the first time a generation and led the House to pass a so-called right-to-work bill for the first time in the state's history – expressed remorse for his actions, but said, "I hope some day when I'm forgiven, my picture is more complete."
Richardson, a Poplar Bluff Republican whose dad once served in the House before him, could be set to serve more than three years as speaker, finishing Diehl's term in the leadership role in this General Assembly and poised to hold onto it in the next.