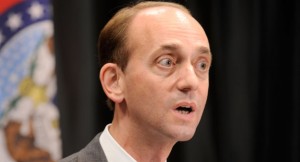 JEFFERSON CITY, Mo. – The 2016 Republican primary for governor just began, but ahead of the party's annual Lincoln Days weekend, an unaffiliated political action committee has already started the ad wars against state Auditor Tom Schweich.
On Friday, Citizens for Fairness — a political action committee that, until recently, was registered to James Thomas, a Kansas City lawyer with close ties to Jeff Roe, the Republican strategist leading Catherine Hanaway's gubernatorial campaign – launched statewide ad accusing Schweich of being corrupt.
"Elections have consequences. Tom Schweich, like him? No. Is he a weak candidate for governor? Absolutely, just look at him. He could be easily confused for the deputy sheriff of Mayberry. But, more importantly, he can be manipulated. That's why Sen. Claire McCaskill and Pres. Obama enlisted my help to meddle in another Republican primary with Schweich as our pawn. Schweich and McCaskill are tied at the hip. Schweich even gave money to McCaskill's campaign. Schweich is an obviously weaker opponent against Democrat Chris Koster. Once Schweich obtains the Republican nomination, we will quickly squash him like a bug that he is and put our candidate, Chris Koster in the governor's mansion."
As he launched his own campaign, Schweich has sought to cast Hanaway as the corrupt candidate in the governor's race, citing the fact that she has raised a significant part of her campaign fund from one donor.