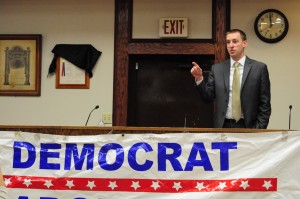 JEFFERSON CITY, Mo. – Despite the national support from the Democratic establishment and – perhaps more challenging – the national attention his young U.S. Senate campaign has already received, Missouri Secretary of State Jason Kander said Thursday he's not yet planning to bring in new blood to manage his campaign against the Roy Blunt Republican machine.
In an interview Thursday, Kander said Abe Rakov, his 28-year-old top aide in his official office who led his successful 2012 campaign, will serve as his campaign manager. Rakov is a former aide to Kander's predecessor, Robin Carnahan, who led his transition in 2012.
Rakov left his official office over the weekend to open the campaign's office, which will be based in Columbia, where Kander recently moved with his wife, Diana.
Kander said he did not expect an easy race, but cautioned observers against overplaying Blunt's strength in a state where, in the same elections that Republicans won presidential elections during the last two cycles, Democrats have maintained control of most statewide elected offices.
"In the past 25 years, Senator Blunt and I have won the same number of statewide elections and I've received the same number of votes in mine," he said. "I wouldn't run if I didn't know that I have a very strong change of being the next U.S. Senator."
Still, Blunt's early advantage will be in his war chest. Because of finance laws, Kander cannot transfer any money from his state account to a federal account, meaning he is starting with no money in his federal account.
In addition to Rakov, Team Kander already has added two people tasked with leading its fundraising effort.
Outside the Kander campaign, the Missouri Democratic Party this week hired Chris Hayden to focus exclusively on the U.S. Senate race. Hayden was a 2012 aide to U.S. Sen. Claire McCaskill's successful reelection campaign and served as press secretary for Democrat Kay Hagan's unsuccessful reelection campaign in 2014.