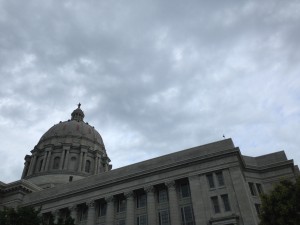 JEFFERSON CITY, Mo. – Will Kraus, call your office.
In a race once seen as an uphill climb for Republicans, party operatives said Thursday that Secretary of State Jason Kander's decision to forgo a run for reelection to instead challenge U.S. Sen. Roy Blunt blew wide open the field to replace him – including a once lonely Republican primary.
Kraus, a Republican state Senator, announced his candidacy for the office last year. But on Thursday, Jay Ashcroft, who carried the Republican torch against Democrat Jill Schupp in one of the state's closest state senate races 2014, announced his candidacy to challenge him.
"After prayerful consideration, I have decided that my experience as an attorney and engineer makes me uniquely qualified to serve Missouri as our next Secretary of State," Ashcroft said in a statement. "Missouri is desperately in need of leaders who will fight for our state's common sense conservative values. I will work to protect the integrity of our elections while ensuring the office's business functions are streamlined to allow Missouri employers to focus on what they do best: creating businesses and jobs."
Ashcroft, a St. Louis lawyer, is the son of former U.S. Attorney General, Missouri governor and state auditor John Ashcroft.
Kraus, in his own statement, said Thursday's developments changed nothing.
Today's announcement by the secretary of state that he will not run for re-election will not change my priorities or my direction, nor will the emergence of any primary opponent. We need a new leader, accustomed to taking on the hard fights, in the office of secretary of state.
The office has been used by politicians like Blunt as a jumping point to greener pastures. The office's last occupant, Democrat Robin Carnahan, did not share in that success – she led an unsuccessful race against Blunt in 2010.
Other Republicans, including state Sens. Mike Kehoe and Mike Parson, are also considering statewide campaigns, but Ashcroft's decision to move first makes Kehoe's entry less likely.