In February 2010, I took a big risk. With the help of a few friends in Joplin and the support of my mom and dad, I decided to launch my own website that would solely focus on the news and the backstory about what was happening in and around Missouri's political arena. Webb City High School's graduation day was right around the corner, so, at 17-years-old, when I hit the "buy" button to officially register the domain name PolticMo.com, I wasn't sure what the future might hold.
It's been five years and there are days I'm still surprised by not only with how far the site has come, but also with how far it has taken me.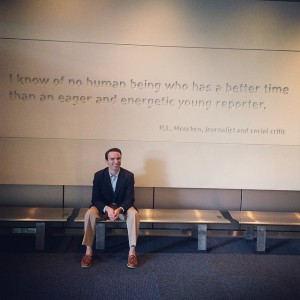 When I started PoliticMo, political news coverage in the state was a bit sparse. There were a handful of a veteran journalists working the beat who were sort of peppered across the I-70 corridor. Over the past five years, I believe Missouri's been blessed by a subtle renaissance, as newspapers, small and large, have renewed their focus on politics, government and policies at the state level which impact millions of Missourians.
Part of that might may be a result of the big issues our large and diverse state has faced. Shortly before my high school graduation, I started covering the large field of Republican candidates hoping to replace Roy Blunt when he ran for Senate in 2010. In 2011, in my hometown, I covered the deadly Joplin tornado that gained national attention and a historic response at the state and federal level. In 2012, PoliticMo led coverage of the U.S. Senate race that pitted Sen. Claire McCaskill against an embattled foe who caused headaches for Republicans nationwide. Last year, I watched the response to our neighbors in Ferguson taking their voices to their streets following the shooting of Michael Brown, which sparked national conversations about economic opportunity, police tactics and just how far this country has come on issues involving minority groups.
And in just the past five months, the nation turned its eyes back to Missouri after the tragic suicides of State Auditor Tom Schweich and his spokesman, the political debate surrounding them, and two scandals involving two different legislative offices and interns working at the state Capitol.
My work in Missouri has been challenging, but always a unique and rewarding opportunity. After traveling thousands of miles across the state – covering dozens of Lincoln and Jefferson Day dinners, union rallies and tea parties, small town parades and community fairs – there is one thing I know for sure: I love my home state.
Because of that, and because I appreciate my colleagues, friends and mentors here; the lessons I've learned; and the support I've received since launching PoliticMo, this next part is bittersweet.
Later this month, I'm headed off to Washington D.C. On June 29, I will join Roll Call as a political writer covering U.S. House and Senate campaigns.
When I clock-in at Roll Call, I'll hit a pause button on the PoliticMo website, but will still always keep my ear to the Missouri-ground for you from Washington. In the coming weeks, I also plan to begin a new column in my hometown paper, the Joplin Globe, updating people back home on the state of affairs in the nation's capital.
Roll Call turned 60-years-old this month, and, as a group of former Congressional staff members put it in an upcoming op-ed, the paper "has been a vital training ground for innumerable hungry young reporters who, under the tutelage of experienced editors, cut their journalistic teeth walking the halls of Congress for the paper and now make up the top ranks of Washington Press Corps."
Consider this list of Roll Call alumni: Fox News White House Correspondent Ed Henry, the Washington Post's Paul Kane and Chris Cillizza, CNN's Jake Tapper and Mark Preston, POLITICO's John Bresnahan and CEO Jim VandeHei, CBS's Norah O'Donnell and NPR's Nina Totenberg.
I can only dream to someday fill shoes like theirs. But that's a dream equally matched by another – to ultimately return to Missouri and work in the state I love.
All the best.