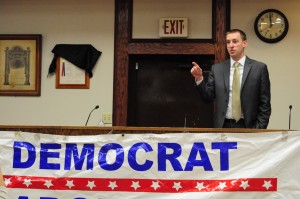 As Congress considers what is being called the country's largest trade deal in a generation, Democratic U.S. Senate candidate Jason Kander, Missouri's secretary of state, is using the debate over the Trans-Pacific Partnership trade deal to draw distance between himself and the its supporters, like Democratic President Barack Obama and Republican Sen. Roy Blunt.
On Wednesday, five days after the Senate passed the bill by a 62-37 vote (with support from 48 Republicans and 14 Democrats, including Missouri Democrat Claire McCaskill), Kander's campaign pointed to a report in the Guardian which noted $77,9000 in campaign contributions from members of a business coalition backing the Trans-Pacific Partnership to Blunt.
"Unfortunately for Missouri's working families, it is clear that Senator Blunt's vote is for sale to the highest bidder," said Abe Rakov, Kander's campaign manager.
According to the Guardian's report, Blunt was the fourth largest recipient of donations from corporate members of the US Business Coalition for TPP.
The bill, which now heads to the House, would allow the president to fast-track a trade bill through Congress without lawmakers having ability to amend it.
"With the Trans-Pacific Partnership we have a once-in-a-generation chance to unleash the economic potential of American small businesses and to level the playing field for our workers," said U.S. Trade Representative Ambassador Michael Froman in a statement last month in support of the measure.
Rakov echoed the sentiment expressed by a coalition of progressives in Washington – Massachusetts Sen. Elizabeth Warren has been perhaps the most vocal among them – who have said the measure would amount to "sacrificing jobs" back in their home states.
"Jason opposed fast tracking TPP because, unlike Senator Blunt, he believes a trade deal this big should get a full vetting from Congress instead of giving the President special power to negotiate on his own," Rakov said. "Missourians deserve a senator like Jason who will stand up to special interests and the President when Missouri jobs are on the line."