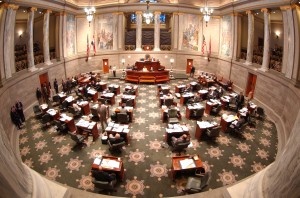 JEFFERSON CITY, Mo. – As state Senators here debated a bill that would modestly raise the state's gas tax in an effort to raise money for transportation, a unique divide emerged – one that featured a group of Republicans asking another to forgo its filibuster on a tax hike.
At issue was a bill sponsored by Sen. Doug Libla, R-Poplar Bluff, that would begin raise the state's gas tax by 2-cents. The proposal, he said, would raise $80 million each year that would be used to close a gap in Missouri's budget that could leave it unable to match federal funding for transportation infrastructure projects.
After more than four hours of debate, the bill gained initial approval on Thursday during a drawn out, 18-13 vote, during which Republican senators like Kurt Schaefer, Will Kraus and Eric Schmitt – all planning to run for a statewide office in Republican primaries next year – double-checked to make sure they were recorded as a "no." (Republican Sen. Mike Parson, who traveled back to his hometown on Thursday to announce his candidacy for governor, missed the vote on Libla's tax hike.)
Under the Missouri Constitution, most tax increases have to go to a vote of the people. But the way Libla's is written (particularly after it was slashed in a prior debate), it does not trigger that requirement.
But, Sen. Rob Schaaf, R-St. Joseph, wanted the vote anyway, instigating hours of debate over the bill.
Schaaf offered an amendment that would require Libla's tax hike to go to a vote of the people, and he was joined by a diverse coalition of conservatives. The amendment was not supported by Republican leaders and a number of more moderate members, who believe the public vote is not necessary.
"These people are hurting," said Sen. Brian Munzlinger, a rural Republican who pointed to transportation challenges in his district. "I've had people say something to me,'yes, do something!'"
Schaaf withdrew his proposed vote of the people in exchange for a proposal that would instead lower the proposed increase on regular fuel, while adding a modest increase in the state's tax on diesel. Schaaf's proposal would also create a commission that wold draft a proposal to enact toll roads.
Sen. Will Kraus, R-Kansas City, amended Schaaf's proposal to require any toll proposal to be approved first by the General Assembly.
"It is important that the voters that elect us are represented in any decision," he said.
Still, Schaaf's amendment was opposed by Schaefer and Schmitt.
Libla's measure, Senate Bill 540, would need another vote before heading to the House.