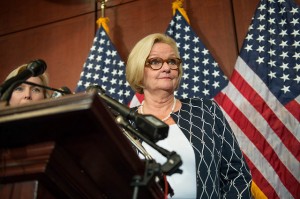 COLUMBIA, Mo. – When Hillary Rodham Clinton announced her presidential candidacy last weekend, she became the first and only Democrat to officially enter the race.
With her record, her name and her resources, it would seem easy for potential challengers to forgo their own campaigns and back hers.  But, a poll conducted by Bloomberg Politics earlier this month showed that 72 percent of potential Democratic primary voters said they thought Democrats would be best served by a competitive primary.
One of the Democrats mulling a challenge, former Maryland Gov. Martin O'Malley, said last week, "I think it would be an extreme poverty indeed if there weren't more than one person willing to compete for the presidential nomination of the Democratic Party."
The O'Malley case, echoed by a number of other Democrats considering their own candidacies, is that Clinton, after decades in the public sphere, is too detached from "real" America, and that between her political efforts and her family's foundation's fundraising work, she is too tied to Wall Street at a time when Democrats are longing for a populist champion.
U.S. Sen. Claire McCaskill – a Democrat from Missouri who was one of the first members of Congress to endorse Clinton's candidacy even before she announced her campaign – said in an interview Saturday that the notion that Clinton is too cozy with Wall Street is unfounded.
"She was the Senator from New York, and that is what they are using. If you look at Hillary Clinton's career, for decades she's been working on children' issues, on family issues, on health issues, on pay equity issues," she said. "This is not someone who has been a shill of Wall Street for her adult life. That's just a Republican talking point."
But, it is not just Republicans questioning whether Clinton is too close to big business. Vermont Senator Bernie Sanders, an Independent considering a run, said on Fox News Sunday that he was skeptical of Clinton, as well as a number of the other candidates.
"I do have doubts about whether Hillary Clinton or whether any Republican candidate out there is prepared to take on the big money interests who control so much of our economy and as a result of Citizens United, our political process as well," he said.
McCaskill said in a potential general election, a fight over Clinton's relationship with Wall Street is likely not one Republicans would want to pick.
"If we look at the records of the Republicans versus the records of Hillary Clinton, it will be very easy to figure out who has the ties to Wall Street that people are worried about."
McCaskill said she neither believes nor hopes another Democrat will ultimately challenge Clinton.
"She is, by far, the strongest candidate for president, I'm thrilled that our party has figured that out," McCaskill said. "I don't think she'll have a significant primary challenge because she's so qualified – not for any other reason."
Nonetheless, the Democratic National Committee is planning for a primary battle. Debbie Wasserman Schultz, the Florida congresswoman who chairs the party, is organizing a debate calendar to feature the Democratic candidates. "Voters who believe we should have a Democratic primary will get their wish," she said last week.