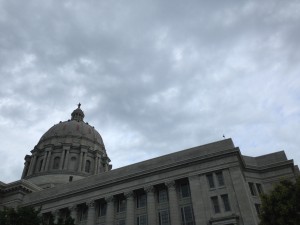 – St. Louis businessman John Brunner has not yet announced whether he will run for governor in 2016, but as the Republican explores a run, his new committee has received an initial boost from some of those who supported Tom Schweich's campaign for the job before his death.
According to a PoliticMo review of the campaign finance report Schweich's campaign filed last week with the Missouri Ethics Commission, Schweich's campaign refunded more than $490,000 to its supporters – $115,100 of which was from contributors who turned around and contributed $85,000 to Brunner in the two weeks since he launched his committee.
Jerry Sumners, CEO of Service Vending Co., for example, was refunded $20,000 from Schweich's campaign before the first quarter ended on March 31. On April 7, he contributed the exact amount to Brunner. The same happened with Peter Herschend, the co-founder of Herschend Family Entertainment, who sent Brunner a $25,000 check after one for the same amount was refunded by Schweich's campaign.
Schweich refunds going to Brunner
| Committee | Donor | Contribution | Refund from Schweich |
| --- | --- | --- | --- |
| MISSOURIANS FOR JOHN BRUNNER | Peter Herschend | $25,000.00 | $25,000.00 |
| MISSOURIANS FOR JOHN BRUNNER | Jerry Sumners, Sr. | $20,000.00 | $20,000.00 |
| MISSOURIANS FOR JOHN BRUNNER | SRC Holdings Corporation | $10,000.00 | $50,000.00 |
| MISSOURIANS FOR JOHN BRUNNER | H E Whitener | $10,000.00 | $5,100.00 |
| MISSOURIANS FOR JOHN BRUNNER | William Darr | $10,000.00 | $5,001.00 |
| MISSOURIANS FOR JOHN BRUNNER | Penn Enterprises, Inc. | $5,001.00 | $5,001.00 |
| MISSOURIANS FOR JOHN BRUNNER | Fredna Mahaffey | $5,000.01 | $5,001.00 |
While the money from some of Schweich's closest supporters made up only about a third of Brunner's initial fundraising haul, it came, nonetheless, as some Republicans are seeking a candidate who might carry the Schweich mantle against Catherine Hanaway – who they believe to be unacceptable because of a brutal campaign she appeared close to against Schweich – in the Republican primary.
When Brunner ran unsuccessfully for the Republican nomination to challenge U.S. Sen. Claire McCaskill in 2012, he essentially bankrolled this own campaign. By the time it was over, the St. Louis businessman who made millions as chairman and CEO of Vi-Jon (the company that makes GermX) had spent nearly $8 million of his own money in hopes of beating Todd Akin and Sarah Steelman in the three-way race.
As he explores the possibility of running for governor, Brunner has not publicly ruled out self-funding his campaign. But, in an interview last month, Brunner hinted that financial support from others would be a key part of his decision making process about whether or not to run.
"This campaign, if I go forward, will definitely be supported and financed by a broad section of people. Otherwise, as I reflect back, to get the engagement from so many people – to be truly effective in winning and governing – this needs to be a bottom-up campaign," he said. "Let the people speak with their money and time and their vote."
The support of those who once backed Schweich has not gone exclusively to Brunner. George Herbert Walker III, for example, who was refunded $5,001 by the Schweich campaign, contributed $10,000 last quarter to Eric Greitens, one of a handful of Republicans who is exploring runs for the Republican nomination to take on the likely Democratic candidate, Attorney General Chris Koster, next fall.