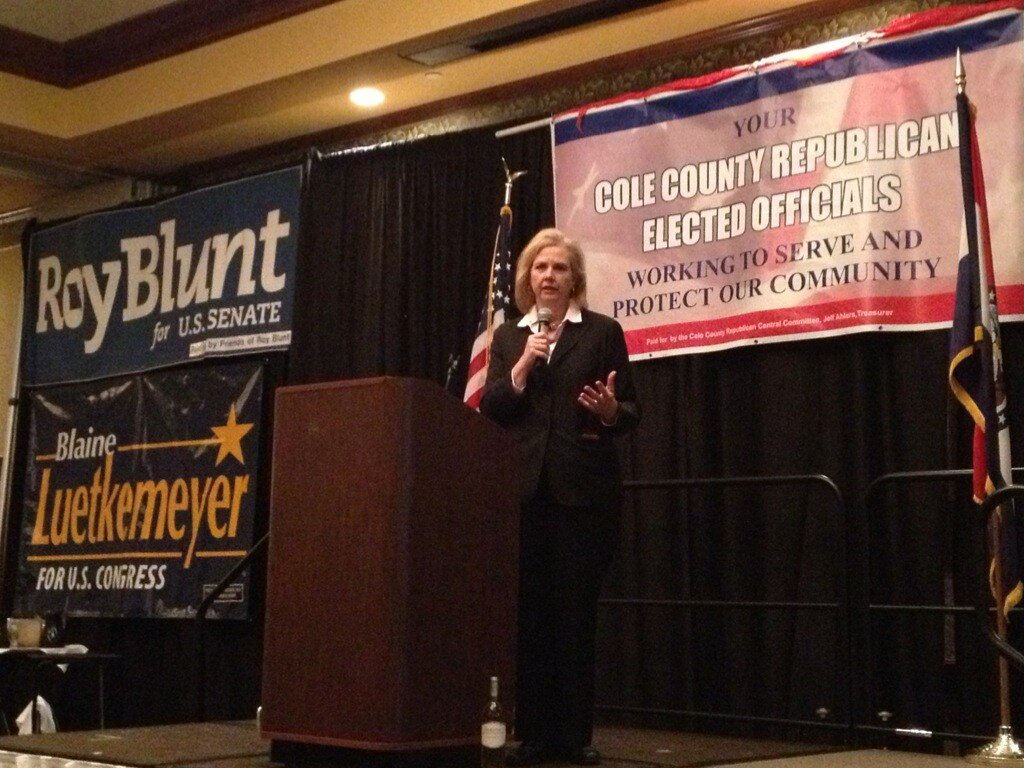 JEFFERSON CITY, Mo. – The monthlong suspension of gubernatorial candidate Catherine Hanaway's campaign after the death of Auditor Tom Schweich – a Republican who was once her primary opponent – took a serious toll on the Republican frontrunner's fundraising effort.
In the first three months of the year, Hanaway raised less than $52,000 – including an $8,250 in-kind contribution for a brutal commercial against Schweich from which she has sought to distance herself.
Nick Maddux, Hanaway's campaign manager, said the former Speaker of the Missouri House has "reengaged" in the fundraising fight. He pointed to the fact that she has $1.28 million still in her campaign account (a number that is just a bit larger than the $1.24 the likely Democratic candidate, Attorney General Chris Koster, raised in the same time period).
"Speaker Hanaway suspended her campaign for the last month of the fundraising quarter to allow everyone to honor and mourn Auditor Schweich's service to our state. During that suspension, we returned a significant amount of money and postponed three fundraisers," Maddux said.
Hanaway, the campaign said last month, cancelled seven campaign events and three fundraisers during her hiatus from the campaign trail.
Among her contributions was the large in-kind donation from Citizens for Fairness, the once-dormant political action committee that produced and paid for the campaign commercial poking fun of Schweich which aired a week before he killed himself. The advertisement was financed, in part, by Chester White, LLC – a corporation owned by Jeff Roe, president of Axiom Strategies who is working on Hanaway's campaign.
In its report, Citizens for Fairness said that Hanaway did not know about the ad before it ran, but that because Roe was working for Hanaway, "these expenditures have been reported to Hanaway for Governor, Inc. in a letter dated April 15, 2015 giving Hanaway for Governor, Inc. notice of the date and amount of these expenditures."
Hanaway has denounced the ad, and Roe, in an interview with the Kansas City Star, said she was critical of him, too.
"She had a very aggressive conversation with me afterwards about my participation in the race and what it would look like if I wanted to stay involved going forward," Roe said.
As concerns permeate among Republicans that Hanaway might be politically weakened by her closeness to the Schweich saga, a number of other Republicans have begun to explore their own runs for governor.
Eric Greitens, a former U.S. Navy SEAL who launched an exploratory committee, raised $480,000 in the month since forming his committee.
State Sen. Mike Parson, a Southwest Missouri Republican who has been flirting with a run, raised only $17,230 last quarter, but ended it with nearly $450,000 on hand.
John Brunner, a St. Louis businessman who formed his exploratory committee on April 1 (after the first quarter reports were due), has raised $280,277, most of which came from nearly a dozen former Schweich donors.
Despite their financial showing, Koster reported $3.3 million in the bank – more than what all five of his potential rivals have raised, combined.