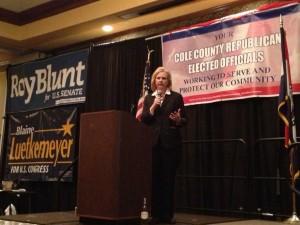 SPRINGFIELD, Mo. – A month and a day since Missouri's auditor and Republican candidate for governor took his own life, the other contender, former House Speaker Catherine Hanaway, has reemerged on the campaign trail.
On Friday, in this Republican stronghold that was home to one of Schweich's strongest bases of support, Hanaway – with her young son in tow – met with reporters, donors and supporters for the first time since Schweich's death shook up the state's race for governor.
"What I'm doing today is continuing to articulate the reasons I decided to run for governor. Those haven't changed at all," she said in an interview at the Scramblers Diner, pointing to her positions on education and economic policies.
Hanaway – who has faced criticism over her closeness to John Hancock, the embattled chairman of the Missouri Republican Party, and Jeff Roe, a political consultant whose firm produced a negative commercial disparaging Schweich before his death – minimized her relationship, and said she has told those those employed by her campaign to not do any work that would conflict with the message her campaign is trying to deliver.
With Roe and others, she said, she had a "conversation of what this campaign is going to be about, a positive vision for Missouri, and a conversation about what this campaign is not going to be about, which is it is not going to be about third-party committees, messages that don't articulate to Missourians how this state's going to be. That's what voters care about."
When Hanaway was sitting in her law office in St. Louis and heard the news Schweich had died, she immediately suspended her campaign. That meant canceling seven "grassroots events," putting down the call list, postponing three fundraisers and even sending back some checks.
"We didn't campaign. My staff didn't go to events. There have been a lot of Lincoln Days going on and we haven't had a presence," she said.
In her absence, a new slate of candidates – including former U.S. Senate candidate John Brunner and state Sen. Mike Parson – have emerged, hoping to carry the Schweich torch with some of his campaign apparatus. Hanaway said doing so would be a tough feat.
"The Schweich torch was heavy. He brought to public service a unique blend of experience, intellect, and ability to work harder than anyone. So, let's put the notion of them picking up the torch aside," she said. "If they choose to join this fight to make Missouri better, I welcome them."
After meetings throughout the day on Friday, Hanaway planned to be in Branson in the evening for her first Lincoln Days appearance in more than a month. Hanaway had similar events planned over the weekend, before a fundraising swing next week.