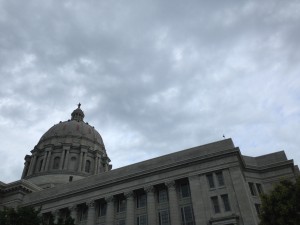 JEFFERSON CITY, Mo. – A Missouri House Committee began its review a range of bills aimed at changing the ethics laws with which they govern themselves, including one measure that would institute a cooling off period between when lawmakers leave the legislature and when they can be paid to influence it.
Rep. Jay Barnes, a Republican of Jefferson City who chairs the House Government Oversight and Accountability Committee, presented his bill on Monday that would ban lawmakers from returning as lobbyist for one year.
"This is the same policy as the U.S. House of Representatives," he said.
In Missouri, it is not uncommon  to pass by the lawmakers of yesteryear at the Capitol, back in the building, this time, to work on behalf of any number of special interest group or non-profit organization.
Former Rep. Chris Kelly, a Democrat of Columbia, left the legislature in January. But, Kelly was back in the building on Monday, this time on the dime of Ameren Missouri.
Kelly is not alone. Former Rep. Noel Torpey, a Republican of Kansas City who was reelected last fall, didn't even wait until the end of his term – he resigned shortly after the 2014 election to join on as a lobbyist for one of Ameren's chief opponents, the Fair Energy Rate Action Fund.
Former House Speaker Steven Tilley, a Republican, cut his term short to lobby the legislature when he was termed out in 2012, and around that same time, his Democratic counterpart, former Minority Leader Mike Talboy, did the same.
Rep. Elijah Haahr, a Republican of Springfield, questioned whether the measure would violate a former lawmaker's "right to contract" in Missouri. Barnes said he did not know, but said that should not matter in this situation.
"No one is forcing anyone to be a state representative or Senator," Barnes said. "Hopefully people run for office to serve the people of this state, not as a stepping stone to a job as a lobbyist."
Jeanette Mott Oxford, a former Democratic state lawmaker who now lobbies for the social welfare organization, Empower Missouri, said she supports efforts to cap lobbyist gifts (like one of Barnes' other bills aims to do), but was wary of the revolving door provisions.
"I don't think you want to limit people who care about our state to be limited in advocacy," she told the committee. "The problem is the other trappings of lobbying as opposed to the fact that you've served with folks here."
Senate Majority Leader Ron Richard, a Republican of Joplin, has introduced a measure that would institute a two year cooling off period.
"Some people said two years is too long. We could go to one year," Richard said last week. But, he said, "There's enough nonsense in this building going on. I'm going to try to clear this up before somebody is indicted."
Richard's leadership counterpart, Senate President Tom Dempsey, said last week he does not support the part of the bill that relates to putting a temporary bump in the way of the revolving door, but that he will not block the bill so that he will "not be defined as a barrier to progress in ethics."
"There are a number of good people who work here and would be barred from seeking future legislative office at the state level who still have a passion," he said. "They have to find other means to support the things they care about."
When asked whether he, himself, wants to take up employment as a lobbyist when he reaches his maximum amount of time in the legislature next year, Dempsey said he had not decided, but, "I want to be able to take care of my family and be a good husband and father."
On Monday, Dempsey said Richard's bill would likely come to debate on the Senate floor later this week.