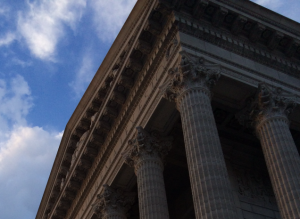 JEFFERSON CITY, Mo. – When the Missouri Senate began work on its legislation among to curb the influence of lobbyists on Tuesday, lawmakers voted against changes to the bill that would have banned lawmakers from receiving lobbyist gifts or that would have capped the size of a campaign contributions.
The bill lawmakers were considering – sponsored by Senate Majority Leader Ron Richard, a Republican of Joplin – would enact modest changes, including a two-year cooling off period between when a legislator leaves the legislature and when they could be employed to try to influence it, a ban on out-of-state travel paid for by lobbyists, and additional transparency requirements.
Citing a reluctance by other lawmakers, Sen. Rob Schaaf, a Republican of St. Joseph, filed a resolution to call on voters to amend Missouri's constitution to enact larger changes by Missouri voters. Schaaf's amendment would cap campaign contributions, ban lobbyist gifts, ban corporate and union political contributions and prohibit politicians from working for lobbyists when they leave government.
"The only way that we can ensure this becomes law that can't be changed back by the legislature is to make it as an amendment to the constitution," he said.
Schaaf said he recognized that, "a lot of the provisions in this would not be palatable to the Senate." He said he wanted to give it a try, anyway.
"The issue of corruption is one that unites political stripes," he said. "I suspect that the legislature would be unwilling to pass meaningful contribution limits."
Missouri is the only state in the nation with the combination of unlimited campaign contributions and unlimited lobbyist gifts.
State Sen. Jamilah Nasheed, a Democrat of St. Louis who offered an amendment to ban the gifts entirely, questioned why lawmakers "deserve the luxury" of unlimited tickets to sporting events and concerts.
"We are losing confidence when it comes to our constituents," she said.
Sen. Scott Sifton, a Democrat of St. Louis who has announce his candidacy for attorney general in 2016, offered his own amendment banning lobbyists gifts. Richard, citing a provision that barred campaign committees from reimbursing lobbyists for their gifts, objected to Sifton's amendment on Tuesday.
After about two hours of debate on Tuesday, Richard's bill, Senate Bill 11, was tabled.