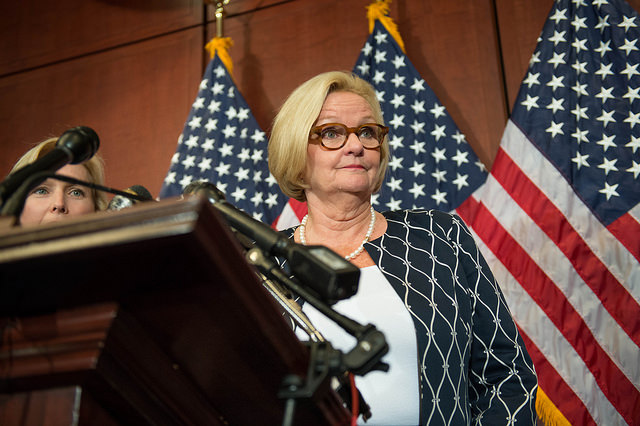 COLUMBIA, Mo. – On Wednesday – tucked away in the back of a warehouse on the outskirts of Columbia, Mo. – a massive order of water treatment plant components built by Environmental Dynamics International sat ready to ship.
Their destination? India.
The company – which produces industrial water filtration and cleaning components – pulls 55 percent of its business from international customers, said Randy Chann, its president and chief executive officer. While the company is based in Columbia, there isn't a local bank financing its transactions. Instead, they get much of their financing from the Export-Import Bank, which may soon be forced to close its doors without action from Congress.
Chann said the Ex-Im Bank proves his company lines of credit, faster payment terms, and bonds, all in an effort to help American companies sell their goods overseas.
"It's these vehicles that let us take our know-how and extend it worldwide," he said.
U.S. Sen. Claire McCaskill, a Democrat, toured EDI on Wednesday as part of a statewide campaign this week to raise awareness about the issue as Congress prepares to return to Washington after its annual monthlong vacation.
"It's providing a competitive advantage to free market companies," McCaskill said, adding that many companies, like EDI, "have competitors who are government subsidized."
Ending the bank, McCaskill said, would cause businesses to be "hamstrung in their ability to have a global reach."
A traditional 'Democrat v. Republican' fight is not stalling the extension of the Ex-Im Bank. McCaskill and Republican U.S. Sen. Roy Blunt both support it. Rather, a feud between House conservatives and moderates has the issue stalled the bill in the U.S. House. While some Tea Party conservatives there oppose the extension, U.S. Rep. Vicky Hartzler, who represents Columbia in Congress, does not count herself as one of them.
"Ex-Im Bank's annual report for 2013 shows it sent $1.057 billion to the U.S. Treasury in Fiscal Year 2013," she noted in a statement. "Furthermore, the Ex-Im Bank has a default rate of only 0.237 percent. It is providing a service at no cost to taxpayers."
Some opponents of the bank argue it is just an example of "corporate welfare" and the government poking its nose in a place where private banks could act on their own.
McCaskill said the idea that banks could act on their own here is true, but discounted the idea that they would, or even that they would have the resources to do so.
EDI, she said, is "using the Ex-Im Bank because the Boone Co. National Bank isn't in the position to back up receivables in India."
When members of Congress return to Washington, they will face a quick timeline if they do decide to extend the Ex-Im Bank: At the end of September, the bank's congressional approval will expire.