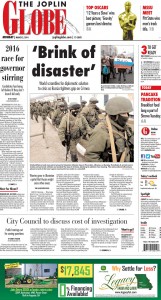 JEFFERSON CITY, Mo. — The 2014 bids are just beginning — filing for county and statewide offices opened Tuesday — but the 2016 race to be Missouri's next governor is in full swing.
Catherine Hanaway, the first female speaker of the Missouri House of Representatives, announced her candidacy for the Republican nomination for governor less than two weeks ago — but nine months after current Attorney General Chris Koster confirmed his plans to seek the Democratic nomination.
Hanaway, now a partner at the St. Louis-based Husch Blackwell law firm, has been traveling the state, meeting voters and raising money for her 2016 bid.
Why such an early start?
"Go ask Koster. He started it," Hanaway said last weekend in Springfield, campaigning at the Missouri Republican Party's annual statewide gathering. "I don't mean to sound like my 11-year-old, but last April, he (Koster) cleared the primary and has raised more than $1.6 million. He is vigorously campaigning to be the next governor. I got in because if we don't catch up, we won't catch up. Unless you start running, you're never going to catch the guy in the race."
More on The Joplin Globe.