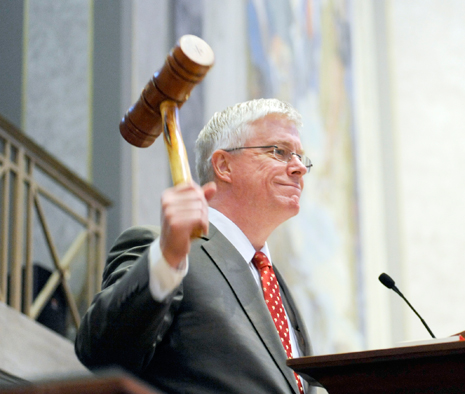 – With a new focus on federal issues and increasing public appearances throughout southeast Missouri, it appears Lt. Gov. Peter Kinder may be moving closer to a decision on whether he will challenge U.S. Rep. Jason Smith in a Republican primary next year.
Kinder, who came in second in the intra-party battle earlier this year that secured Smith the party's nomination in the June special election, has been quietly mulling the possibility of another run at it when Smith goes before 8th Congressional District primary voters for the first time next year.
Kinder is expected to make his decision in the coming weeks. Over the weekend, Kinder penned opinion columns – including one on PoliticMo – critical of members of Congress seeking to exempt themselves from provisions of the 2010 federal health care law, making his voice again heard on an issue important to Republican voters.
On Monday, about a week before the law was set to go into full effect, Kinder held a news conference call where he said, "If Americans are going to feel this kind of pain, there can be no special treatment of members of Congress or their staffs."
Kinder has been touting his opposition to the law since 2010, when he filed a lawsuit against the bill and campaigned heavily in favor of Proposition C, which voters approved during the primary election banning the state from setting up a health care exchange, as required by the federal law.
Kinder's call was preempted by Smith, who sent out a press release ahead of Kinder's call highlighting his cosponsorship of legislation that would require the president, vice president, political appointees, and employees of congressional leadership offices and committees to have to participate in the American Health Benefit Exchange, in which Missourians will also be enrolling due to the state's decision to not set up its own exchange.
"Nothing makes my constituents more disappointed in their government than Washington politicians who say one thing and then do something different," he said. "It's insulting that President Obama, Nancy Pelosi and Harry Reid would force ObamaCare through Congress only to exempt themselves and their staffs from the law. Obama, Pelosi and Reid are no better than my constituents and I will not allow them to be given an ObamaCare exemption."
The issue marked the first subtle-public positioning between the two since their intra-party campaign for support of 8th Congressional District Committee-members in February.
The Possibility 
If he were to enter the race, Kinder would face a handful of challenges. First, of course, is the issues of his personal history and his former public relations with a stripper. The issue was the focus of a series of unsuccessful television ads used against Kinder during his 2012 primary for lieutenant governor.
Speaking on anonymity citing the uncertainty at this point about whether Kinder even runs, one Republican strategist backing Kinder said the three-term lieutenant governor's dirty laundry has already been aired, and pointed to 2012 as and example of its effectiveness with voters.
"There is nothing new they can use against him," the strategist said. "It is all out there."
In the 2012 primary, Kinder beat State Sen. Brad Lager in all but five of the district's nearly 30 counties. But this time, it would be different: Instead of taking on a northwest Missouri State Senator, he would be taking on the new, local congressman who will likely pull the support of the party establishment, at least publicly.
Another factor that could impede Kinder: The possibility of the unknown. Could a Tea Party favorite like Bob Parker or a former state Senator like Jason Crowell enter the race too? Neither have indicated either way, but neither are known as the most predictable political figures.
Perhaps Kinder's biggest challenge could come in the form of fundraising. The lack of establishment support in the primary (including Smith's ability to raise Washington money), coupled with Kinder's rocky relationship with some Missouri donors leave him facing a challenge raising resources. Still, he does have friends in Kansas City, St. Louis, and perhaps, most importantly, Cape Girardeau, who Republican believe may be willing to back him if he were to run.
For his part, Kinder has pulled votes from the region since 1992, when he was first elected to the Missouri State Senate from Cape Girardeau (Smith was 12 years old at the time). While he may be the butt of some jokes statewide, southeast Missouri Republicans still have something of an affection for Kinder: He is one of their own who rose the ranks to become the first Republican Senate Leader in half a century.
Kinder has the bonafides of the only Republican statewide candidate to win in both 2008 and 2012, 100 of the state's 114 counties in the 2012 General Election, including all but one of the counties in the 8th Congressional District. He has received an A+ rating by the National Rifle Association and has the anti-abortion credentials conservative voters seek in their candidates, all of which were contentions he made when running for the seat earlier in the year.
When asked explicitly if he planned to run, Kinder told the Kansas City Star that he was only considering it, but "you bet I am" being asked to pursue a campaign, and has since kept his cards close to his chest. (The filing deadline, for what it's worth, is May 21, 2013.)