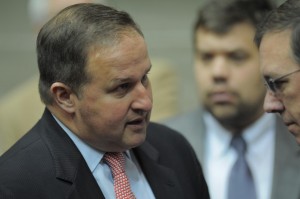 JEFFERSON CITY, Mo. – Embroiled by a story revealing a sexually charged sexting relationship with a Capitol intern, Missouri House Speaker John Diehl said Thursday he will resign his seat in the legislature, forgoing a final year as the state's top lawmaker.
""Too often we see people who say they're sorry and don't won't take the consequences," Diehl said, adding that his relationship with a 19-year-old intern who worked in the House "calls into question my ability to lead."
While he met with a few reporters before making the announcement to the entire Republican caucus on Thursday, Diehl was joined by Reps. Mike Leara, Sue Allen, and his closest advisors, Joe Lakin, Alex Curchin and political consultant Robert Knodell.
Diehl said he resigned entirely because after being the House's top official, he "didn't want to go sit out there" in the House.
"Unlike some other people, this isn't my entire life," the St. Louis lawyer said.
Diehl, who defied Republican lawmakers like Jay Barnes and Mike Moon who had called for a vote on him staying on as speaker during a private meeting on Wednesday night,  said he was resigning "on my own terms," but did not want to put the Republicans here "in jeopardy."
Diehl's resignation opens a race for speaker that could pit Rep. Todd Richardson, the Poplar Bluff Republican who is next in line, against an insurgent Republican with higher ambitions who could capitalize on a shakeup in House leadership.