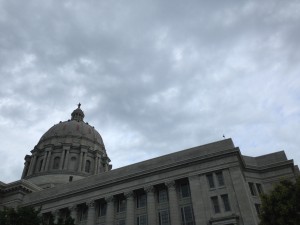 JEFFERSON CITY, Mo. – A Missouri legislator is now facing an ethics complaint after comments he made to his hometown newspaper in which h he was reported to have said he accepted lobbyist gifts on behalf of other lawmakers.
The Kirksville Daily Express reported over the weekend that Rep. Craig Redmon, R-Canton, said some of the $1,210 in freebies reported to him this year included, "multiple dinners from a lobbying event in an effort to help legislators who are sensitive to having anything on their report."
"It doesn't bother me," Redmon told the paper. "Nobody's going to buy my vote with a dinner. I think it's important that you've got to keep your integrity. If I ever felt my integrity was for sale, it would be time to get out."
On Tuesday, Progress Missouri, a liberal advocacy organization, filled an ethics completing challenging Redmon over the comments, and the alleged act that would shield other lawmakers from the reporting requirement.
"Redmon's action, in conjunction with multiple unknown legislators (and potentially lobbyists), resulted in a falsification of the public record," the complaint reads. "By not correcting the records before the reports were made available to the public, Redmon appears to have misled the public and the commission regarding his activities and those of any legislators nail lobbyists working in conjunction with him."
In an interview with PoliticMo, Redmon said the Kirksville reporter "misunderstood what I said."
"They got that all wrong," Redmon said.
When asked if he had ever reported a meal to his own report on behalf of a colleague, he said, "it is not that someone said they wouldn't go unless I put it on mine. I said I would do something like that if I had an issue I'd want them to hear about and they didn't want to report."
The way the system is set up relies on self-reporting by lobbyists to the Missouri Ethics Commission at the end of each month. But, nothing other than the law would stop a lobbyist from reporting a gift to one lawmaker that may have been given to multiple lawmakers.
In the first three months of the 2015 legislative session, Missouri lawmakers took thousands of dollars in gifts like meals and tickets from lobbyists who are paid to influence their votes.
More than $2,270 were reported in three months to Rep. Mike Colona, D-St. Louis, followed biennially $2,000 to House Budget Committee Chairman Tom Flanigan, R-Carthage. They are at the top of the list of individual recipients.