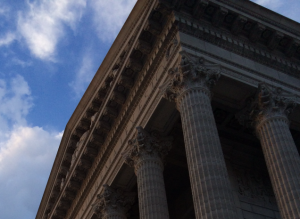 JEFFERSON CITY, Mo. – After earning Senate approval Wednesday evening, a bill that would slash the amount of revenue Missouri's cities can collect from fines related to traffic violations and other minor offenses is one House vote away from making it to the governor's desk.
After three meetings of a conference committee this week to hammer out the differences between House and Senate proposals, the Senate passed the bill, sponsored by Sen. Eric Schmitt, R-Glendale, by a 31-3 vote.
"We're dealing with the revenue, the cap on fines, the process of municipal standards and some penalty standards," he said. "For the first time, we're making meaningful reforms."
Under current law, cities are limited to collecting only 30 percent of their general operating revenue from traffic fines and court fees. The bill would cap municipal revenues from fines in St. Louis County at 12.5 percent, and statewide at 20 percent. The bill would also cap fines at $300 each.
With changes added by the House, the state would require municipalities in St. Louis County to meet minimum standards like balanced budgets, and police departments would be required to receive accreditation within six years.
Schmitt's bill would eliminate failure to appear charges, which have been cited as part of a snowball effect that turns a traffic ticket into an expensive series of fines that have landed some people in jail for the inability to pay. Sen. Jay Wasson, a Republican of Southwest Missouri, asked him, "Why would anybody ever appear in court?"
Schmitt said his bill would not disallow anyone from being compelled to show up to court.
"It doesn't mean a warrant can't be issued, you're just losing that additional layer of fines," he said. "We're trying to get away form that traffic violation and one missed court date that puts someone in jail."
The measure, one of a handful of issues that has arisen after the unrest in Ferguson following the shooting of Michael Brown, a young black man, by a white police officer, could be brought up in the House as soon as Thursday.
Gov. Jay Nixon, a Democrat, expressed support for changes to the state's municipal courts in his State of the State address in January.