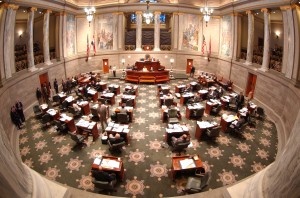 JEFFERSON CITY, Mo. – Republicans dissatisfied with Catherine Hanaway, the party's leading candidate for governor, have floated a number of names as potential candidates to join the party's primary field after the suicide of her sole opponent, former State Auditor Tom Schweich, shook up the race.
Eric Greitens, a former U.S. Navy Seal, and John Brunner, a former St. Louis businessman, have both formed exploratory committees. Lt. Gov. Peter Kinder took to talk radio earlier this month to float his own name. And, State Sen. Mike Parson, R-Bolivar, has said he will make a "official announcement" about the race this Thursday in his hometown.
But despite all of those names, another one has begun to float around the halls of the state capitol: Sen. Bob Dixon, a Republican of Springfield.
"Leadership is doing the right things the right way at the right time," he told PoliticMo. "Right now, I'm focusing on my important duties in the Missouri Senate. I will have something to say to all Missourians soon."
Why would he get in the race, and what is his potential timeline? "I will have no other comments right now," he said.
In recent weeks, the second-term Senator – a Republican who has maintained a decent relationship with labor unions – has met with activists and donors about a potential run.