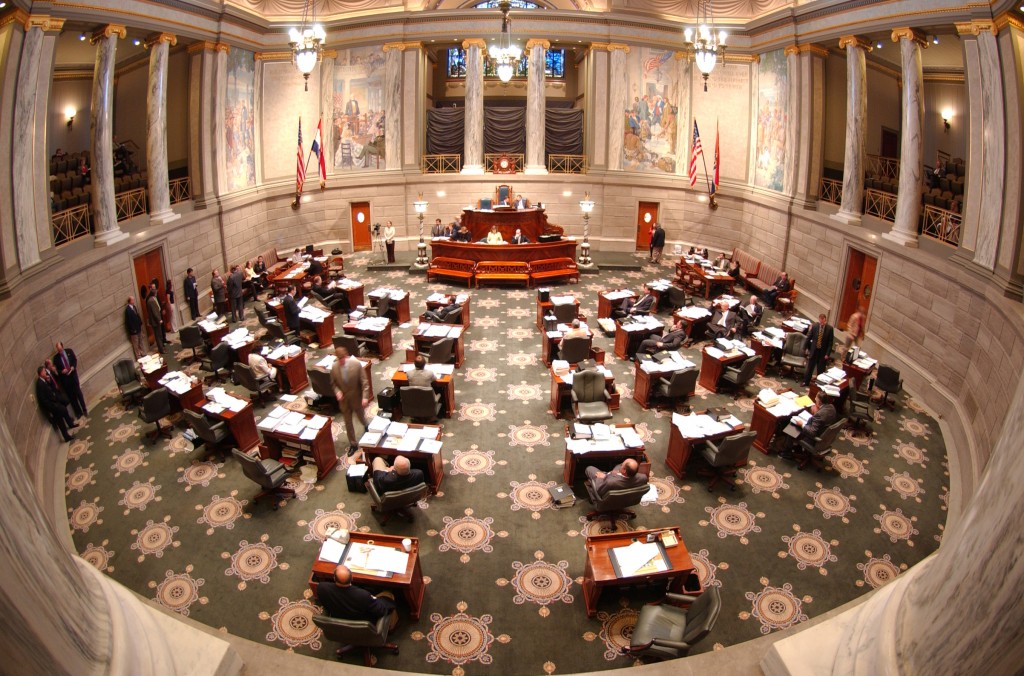 JEFFERSON CITY, Mo. – In order for someone to film a hearing being conducted by a Missouri Senate committee – whether one be an average citizen, a representative of an activist group or even a member of the Capitol press corps – Senate rules state that they must receive approval from the committee's chairman, first.
Typically for members of the news media, the process does not require much more than an email or a phone call to a chairman's office to get approval. But for others, the process by which they are approved sometimes appears to be more subjective.
On Tuesday, Cameron Sullivan, a researcher for the liberal group Progress Missouri, emailed Sen. Mike Parson's office requesting to film at a hearing of the Senate's Small Business, Insurance and Industry Committee. Minutes before it was supposed to begin, after Sullivan had already set to film the meeting, a Senate doorkeeper from the Sergeant-at-Arms office approached him to ask what he was doing.
"The doorkeeper asked me if I had permission from Parson, I said he hadn't answered and that if Parson asked me to stop filming I would," Sullivan said.
At that point, the doorman walked off. But soon, he reemerged with two Capitol Police Officers. After huddling with Parson's chief of staff, the two police officers demanded Sullivan stop filming and that it was his "final warning."
"I didn't want to get physically removed as was the clear threat, so I stopped filming and left," he said.
Parson and his office did not respond to emailed requests for comment.
While journalists are typically granted access to film without much hassle, it is not always certain that they will be granted access.
Earlier this month, Parson turned away Kermit Miller, a veteran reporter for the Jefferson City television station KRCG. Miller said he made a verbal request to film, but was turned away. He was told that a Senate staffer would make film of the committee hearing available, "but no access for me."
The Missouri Sunshine Law states that, "a public body shall allow for the recording by audiotape, videotape, or other electronic means of any open meeting." But, Senate rules require anyone wanting to film to receive permission first, citing a provision in the Sunshine Law that allows public bodies to "establish guidelines regarding the manner in which such recording is conducted so as to minimize disruption to the meeting."
Their rule states that, "persons with cameras, flash cameras, lights, or other paraphernalia may be allowed to use such devices at committee meetings with the permission of the Chairman as long as they do not prove disruptive to the decorum of the committee."
Before lawmakers left town for their annual spring recess, Progress Missouri sent a letter to the Senate questioning whether its rules violated the state's open records laws, which require public entities like the Senate to allow people to film opens meetings.
Marga Hoelscher, the Senate administrator, said in an email that committee chairmen are "tasked with limiting disruptions and distractions during Committee hearings," including filming. "Any changes to the Committee filming process must ensure that the experience of those in attendance is not hindered in any way," she said.
Hoelscher said the Senate is reviewing "the resources needed to enhance audio and video coverage of committee hearings to ensure that coverage is available when requested by Committee Chairs."
Until then, she said, nothing is set to change.
Progress Missouri had threatened to sue if their staff was again turned away from a hearing.