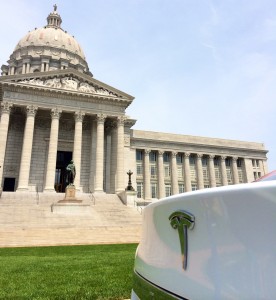 JEFFERSON CITY, Mo. – Tesla Motors has filed a motion to intervene in a lawsuit filed last month by the Missouri Auto Dealers Association, entering themselves into the legal fray between the association and the state's Department of Revenue.
The auto dealers' lawsuit alleges that the Missouri Department of Revenue violated the state's franchise laws by issuing Tesla — an automotive company – a new dealers franchise license to sell cars.
The litigation names the department and its director, but does not name Tesla. The auto dealers have long said the debate is not specifically about Tesla, but rather about the decision of the department to issue them, an auto company, a license that is typically granted to auto dealers.
On Tuesday, MADA filed its own motion in support of Tesla's choice to enter the fray.
"We don't really view our lawsuit as being all that much about Tesla, we view it as being about the Department of Revenue not following the law," said Lowell Pearson, a Husch Blackwell lawyer representing the Missouri Auto Dealers Association.
In its own motion, Tesla defended its business model which, unlike other auto companies, does not rely on auto dealers. Missouri law, they said, explicitly bans auto companies from selling directly to consumers in situations where franchisers are already selling.
"Because Tesla does not — and has never — granted a franchise to anyone, the definition odes not apply to Tesla," the company's lawyers wrote in their memo to the court.
Pearson said Tesla's argument does not consider another state law
"The statute they ignore is the one that says it's unlawful to sell cars if you're not a new motor vehicle franchise dealer," he said. "That's crystal clear."