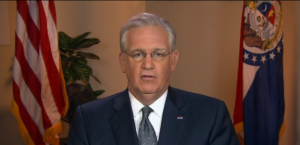 JEFFERSON CITY, Mo. – Ferguson-area leaders and emergency responders said Wednesday that they had been told Gov. Jay Nixon would deploy the National Guard into Ferguson on the night of a grand jury's decision regarding the shooting of Michael Brown.
But, when Nixon declared a state of emergency and deployed the troops to St. Louis, something had changed, he said.
"I was initially told there would be National Guard troops in front of the Ferguson Police Department," Ferguson Mayor James Knowles told a joint legislative investigative committee. Two weeks before the grand jury's announcement, however, "we were told the National Guard troops would not be in the city of Ferguson."
Knowles said he first learned the Guard would not be there from St. Louis County Police Chief Jon Belmar, not Nixon. Troops were deployed to "static locations," like power stations and the St. Louis County Courthouse far from Ferguson, but, they would not in the city, he said.
"He could not give me reason why," Knowles said. "He said it came from the governor's office."
After it was announced that Ferguson Police Officer Darren Wilson – the white police officer who shot Brown, a young black man – had not been indicted around 8:30 p.m. on November 24, Knowles said started reaching out to Nixon's office around 10 p.m., requesting additional assistance.
Knowles said he could not get in touch with anyone in the governor's office, so he started reaching out to state elected officials including U.S. Sen. Claire McCaskill, Attorney General Chris Koster, state Treasurer Clint Zweifel and even former House Speaker Tim Jones. None of them could reach Nixon's office, he said.
It was not until 2 a.m. the next day when and the drama in the streets had began to calm down – four hours after Knowles started reaching out to Nixon's office – that he heard from McCaskill that a greater National Guard presence would be on its way.
"I'm appalled by that," said state Sen. Jamilah Nasheed, a Democrat of St. Louis. "That was a failed operation on the part of the governor in terms of what happened the night of the decision."
Knowles said the last time he spoke with Nixon was in September, nearly two months before the grand jury announced its decision.
Earlier in the day, Nixon offered a defense of his performance in Ferguson and criticized Knowles.
"I'm not sure what he's saying or when he's said it," Nixon said to the point made by Knowles that his office had made promises to have the National Guard there. In a dismissive tone, he added, "It's the same chap who said he didn't know about the Ferguson Commission."
Greg Brown, the chief of the Eureka Fire Department, said he was surprised that no National Guard troops were on the ground, too.
"We were assured there would be force protection for any of the units," he said.
Brown said it was not until he "got out there" that he found out that the National Guard was not involved in their protection. "We were under the assumption they'd fulfill the role of force protection," he said.
Nixon's office did not respond to a request for comment Wednesday evening regarding some of the claims made at Wednesday night's hearing.