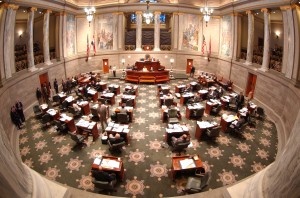 JEFFERSON CITY, Mo. – With only two objections, the Missouri Senate passed a measure sponsored by Senate Majority Leader Ron Richard that would enact lobbying restrictions and additional transparency requirements.
The bill, sponsored by the Republican of Joplin, passed the body 32-2.
On Monday, the two no votes said they did so for opposite reasons.
Sen. Rob Schaaf, a Republican of St. Joseph, said he opposed the bill because it exempts current lawmakers from the two-year "cooling off" period between when a lawmaker can leave the legislature and return to lobby it. Under Richard's bill, the provision would only apply to lawmakers who come to the body first in 2017.
"I don't know who wanted those words added, but I suspect whoever wanted them did so out of a person desire to keep open the possibility of serving as a lobbyist," Schaaf said. "If we pass this bill, it means we will probably table the issue of ethics for several years."
Schaaf said the provision would not be in full effect until 2031.
Sen. Mike Parson, a Republican of Bolivar, said he opposed the bill because of the "cooling off" provision.
"If we want to do ethics reform, then do ethics reform," he said. "But, do not take away the rights of the people back home to hire who they want to hire in Jefferson City."
The measure now heads to the Missouri House, where lawmakers are considering their own changes to the state's ethics laws. Missouri is the only state in the nation where lawmakers can accept both unlimited lobbyist gifts and unlimited campaign contributions.