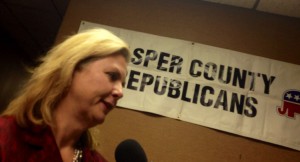 JEFFERSON CITY, Mo.  – In 2002, then-Missouri House Speaker Catherine Hanaway led a charge for taxpayers to help fund the construction of a new stadium for the St. Louis Cardinals.
The plan would have cost the state as much as $644 million.
Now, as Missouri's leaders grapple with the idea of how or whether to leverage half a billion dollars or more in taxpayer money for a new stadium for the St. Louis Rams, Hanaway – a Republican candidate for governor – said public funding is a bad idea.
"I also would not support taxpayer subsidies for a new stadium. I am supportive of innovative alternatives to keep the Rams in St. Louis without using taxpayer funding," she said in an email, adding that she was not a supporter of taxpayer funding for the Edward Jones Dome two decades ago, either.
Republicans in the General Assembly on Wednesday were singing the same tune –  expressing hope that the Rams would stay in St. Louis while at the same time noting that there is "no appetite" for new taxpayer subsidies.
"I think St. Louis is an NFL city. I want them to stay here. But, we're not going to get involved in a biding war to do that," said House Speaker John Diehl, R-St. Louis.
Each year, Missouri makes payments on the debt related to its financing of stadiums in Kansas City and St. Louis. When Hanaway was in the legislature, she supported a measure that authorized nearly $10 million for stadiums and $7 million for debt payments.
The issue was used against Hanaway in previous campaigns. In 2004, when she ran for secretary of state, Democrat Robin Carnahan accused Hanaway of putting stadium funding above funding for education. The ad, which only ran in rural Missouri, earned criticism from Carnahan's fellow Democrat, St. Louis Mayor Francis Slay.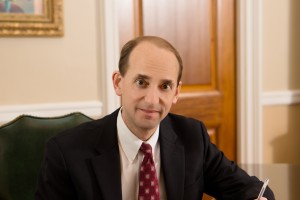 As it did then, the issue could creep up again for Hanaway, particularly among conservative, rural voters. A spokesman for State Auditor Tom Schweich, another Republican considering a bid for governor, said he, too, opposes taxpayer money being used on a new stadium.
"The fact that the Rams are considering moving after millions of dollars in taxpayer funds were spent to get them here is a cautionary tale for this kind of funding," said Gregg Keller, a Schweich spokesman.
On Friday, Democratic Gov. Jay Nixon is set to receive a report from the former president of Anheuser-Busch, David Peacock, and St. Louis attorney Robert Blitz detailing possible ways to keep the National Football League in St. Louis.
The renewed discussion comes as the owner of the St. Louis Rams has acquired land in  Los Angeles suitable for the building of a new football stadium. The land deal between owner Stan Kroenke and the Stockbridge Capital Group comes at a curious time: The Rams' 30-year lease on the state-financed Edward Jones Dome is about to be open for negotiation and the owners see an opportunity to get a deal.