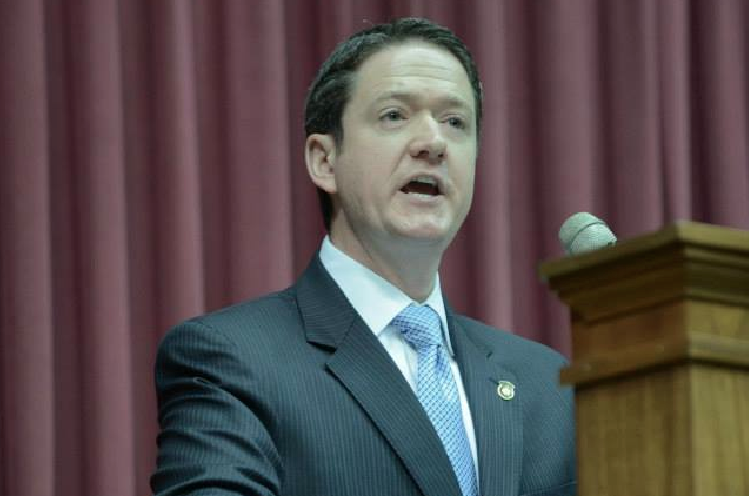 – On the day a St. Louis grand jury was set to announce the findings of its investigation into the fatal shooting of Michael Brown, a young black man, by a white police officer, Missouri House Speaker Tim Jones said he agreed with former New York City Mayor Rudy Giuliani that the real focus following Ferguson should be "black on black" crime.
Speaking on NBC's Meet the Press on Sunday, Giuliani said, "I find it very disappointing that you're not discussing the fact that 93 percent of blacks in America are killed by other blacks. We're talking about the exception here."
That, Giuliani added, "is the reason for the heavy police presence in the black community… White police officers won't be there if you weren't killing each other 70 percent of the time."
Jones, a Republican from the St. Louis suburb Eureka, Mo., said he agreed with Giuliani. In a post on Twitter, he added that it was his opinion that the "major problem" is "not white cops."
Giuliani: "You're not discussing the fact that 93% of blacks in US are killed by other blacks" major prob not white cops. #facts @tonymess

— Tim W. Jones (@SpeakerTimJones) November 24, 2014
When asked about the broader concern that police are more likely to target African Americans than whites, Jones deflected.
Are you privy to the entire truckload of Grand Jury evidence? On what is your presumptive question based? @eyokley #Ferguson

— Tim W. Jones (@SpeakerTimJones) November 24, 2014
Each year, the office of the Missouri attorney general studies whether the any  given race or ethnic group is disproportionately represented in traffic stop statistics. It is called the "Disparity Index."
"Values greater than 1 indicate over-representation and values less that 1 indicate under-representation in traffic stops," the website states.
Since 2000, the "Disparity Index" for African Americans driving in Jones' own hometown has fallen three points from 7.24 percent, but is still well above the expected value. Meanwhile, white people traveling through Jones' hometown are significantly less likely to be pulled over than minorities.
Still, Jones accused a reporter of trying to "push a narrative" in asking about equity in the criminal justice system.
@eyokley U cannot make presumptions of unknown facts&apply 2 larger issue of racial ?s. Using raw emotion of #Ferguson 2 push a narrative.

— Tim W. Jones (@SpeakerTimJones) November 24, 2014
Jones announced earlier this month that he would not be seeking statewide elected office in 2016. Instead, he has taken a new role as a policy fellow at Lindenwold University and is in talks with the conservative website Breitbart to do commentaries. 
Earlier in the day, Jones reposted on his Twitter a quote that said the "black elite" was more dangerous to Black Americans than the Klu Klux Klan.
"The black elite are more dangerous than the The Klu Klux Klan, to Black Americans." ~ Arthur BigBully Savage…. http://t.co/i0d7PxflsO

— UnhyphenatedAmerica (@UnhyphenAmerica) November 24, 2014
In response to online criticism of his post, Jones said he was only stating "facts."
#Giuliani states facts re:black v. black crime. Left wingers trolling me 2day want to ignore facts & drive their own narrative re: #Ferguson

— Tim W. Jones (@SpeakerTimJones) November 24, 2014
Venomous #Left haters have reached new level of hysteria today. Good thing they do not govern the #moleg … & never will.

— Tim W. Jones (@SpeakerTimJones) November 24, 2014