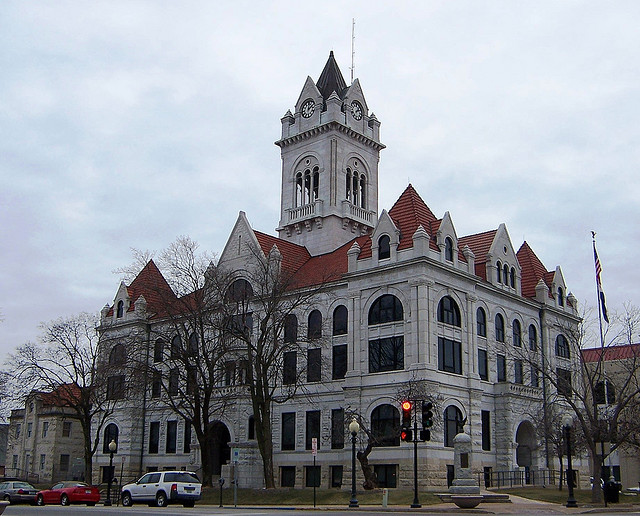 JEFFERSON CITY, Mo. – For a judge, being elected to the Cole County 19th Judicial Circuit Court is a big deal.
While its jurisdiction is only over a county of 75,000 people, it includes one important thing that no other county has: The seat of Missouri government. That gives the court jurisdiction over major constitutional questions involving state leaders and, more importantly to voters statewide, questions regarding ballot initiatives.
Over the past few election cycles, Republican candidates have slowly beat many of the Democrat incumbents on the 19th Circuit. This year, Presiding Circuit Judge Patricia Joyce is the last Democrat standing.
Over the weekend, the Washington, D.C.-based Republican State Leadership Committee gave $100,000 to Joyce's Republican opponent in an effort to get her off the court.
The money made its way into Republican Bryan Stumpe's campaign coffers after taking three steps. First, it was contributed by someone to the RSLC's national non-profit organization. Then, it was contributed to the RSLC's Missouri political action committee on Oct. 3. Finally, it made it into Stumpe's campaign account on Oct. 4.
Because of federal disclosure rules regarding non-profit organizations like the RSLC, it likely will not be clear until after the November election who it was that contributed the money that made its way to Stumpe's campaign.
"I am pleased they see the importance of this race and have chosen to support my campaign," Stumpe said told the Jefferson City-News Tribune when asked about the contribution.
When asked by the paper if he knew where the money came from, he told the paper he did not know.
"The RSLC has thousands of donors and spends millions every election helping to elect conservative Republican candidates," he said.
Prior to receiving the contribution, Stumpe – whose campaign had just $287 in the bank – had already begun filming a television commercial in downtown Jefferson City, according to one source.
The RSLC has a handful of Missouri-based donors, including St. Louis billionaire Rex Sinquefield, whose lawyers often argue before the 19th Circuit on cases regarding ballot initiatives and constitutional amendments. Quietly near the end of October 2012, Sinquefield contributed $475,000 to the RSLC, which wasn't made public until well after voters went to the polls in November.
Jill Bader, a spokeswoman for the RSLC, said the organization has not received any money from Sinquefield this election cycle and that donors are not given the option to earmark their contributions.
"The RSLC has over 100,000 donors in all 50 states. Our donors are publically disclosed on our 8872 (form) we file monthly with the IRS," she said.
The RSLC was formed in 2002 to help Republican candidates seeking down-ballot seats like state legislator or lieutenant governor. This year, it launched the "Judicial Fairness Initiative," its effort to expand that help to Republicans seeking hoping to jump on the bench.
Prior to the big contribution over the weekend, the race had been fought in the way many of these offices that have jurisdiction over small geographic territories are typically fought: Candidates battling for the hearts and minds of voters by knocking on doors, passing out literature and marching in parades.
Compared to large statewide campaigns, judicial elections are often times cheap. Before last weekend, Stumpe had raised a total of $900. This cycle, Joyce – a third term incumbent – raised a total of $30,000 and currently has over $18,700 in the bank.
Following criticism of Stumpe by the Jefferson City News Tribune's editorial board, Better Courts for Missouri – a conservative-aligned group active in judicial politics – took a shot at Joyce for accepting more than $14,000 in contributions from lawyers, some of whom practice before the Cole County circuit.
James Harris, executive director of the group, said Joyce should "either refund these contributions or agree to recuse herself any time her donors come before her court."