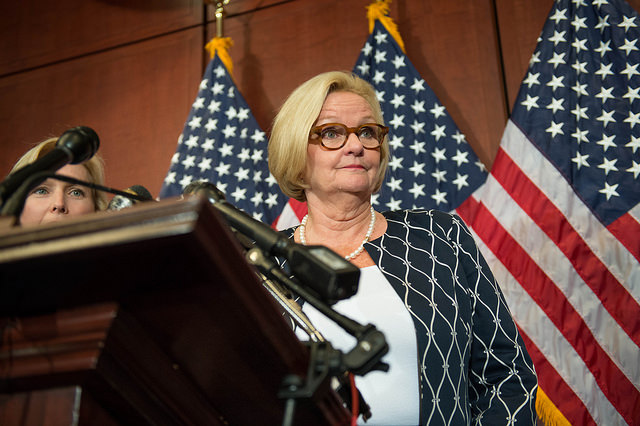 Last Friday night, the streets of U.S. Sen. Claire McCaskill's quiet Kirkwood, Mo., neighborhood were bustling.
Nearly 200 people – a mix of legislators and lobbyists, along with laborer leaders and businessmen – gathered at her home that night to raise money for the Missouri Democratic State Committee.
The result? Nearly $500,000, according to Democrats who attended the event. Nearly half of that – $240,000 – came from McCaskill, herself, matching the original total from the event and making her the largest current individual donor to the Missouri Democrats.
The move and the recent cash infusion comes as the party – led by McCaskill and Democratic Attorney General Chris Koster, a likely candidate for governor in 2016 – has refocused its efforts on gaining back seats in the General Assembly after Republican domination for more than a decade.
In addition to McCaskill's personal boost, the party's haul that night included $25,000 from the Carpenters' District Council of Greater St. Louis's political fund, $30,000 from House Minority Leader Jake Hummel's campaign fund, $10,000 from St. Louis attorney Robert Blitz, and another $10,000 from St. Louis-based capital management firm Rollins Capital.
And those are just the contributions of more than $5,000 reported to the Missouri Ethics Commission within 48 hours of the event.
"We had a phenomenal event at the Senator's home to raise money for our legislative efforts and are thrilled with both the success of the event and her personal commitment to the effort," said Crystal Brinkley, executive director of the Missouri Democratic Party.
Earlier this year, the party closed its two legislative campaign arms and moved them instead under the umbrella of the party, itself. While Democrats have done well statewide – they currently hold five of the seven statewide offices and oneof – their standing in the state Legislature has diminished.
Their playbook is simple: Democrats are targeting parts of the state where Koster, McCaskill, and even Democratic Gov. Jay Nixon have all done well. Coupled with some hope for good luck (i.e. the legislative equivalent of an Akin moment) they party is using troves of data collected by their campaigns to target voters that they think are voting for the statewide Democrats but not the local Democrats.
Last year, Koster pledged to contribute $100,000 a year through 2016 to the party to help with their effort to take back seats in the Legislature, meaning he plans to raise $400,000 for the party as he plans to seek their nomination for governor.