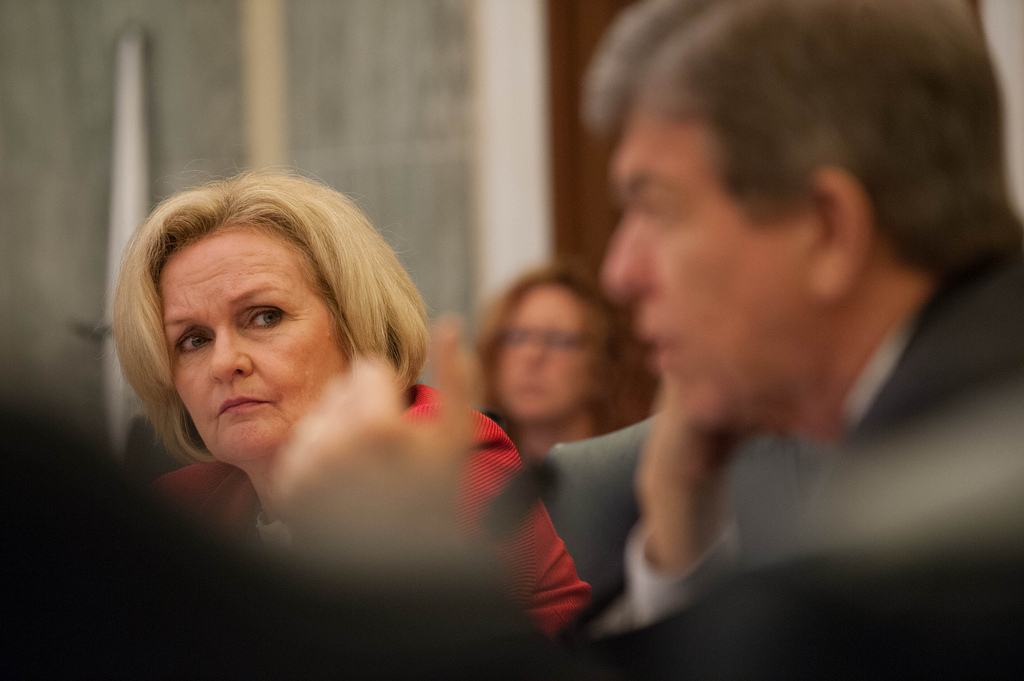 – Democratic U.S. Sen. Claire McCaskill said congressional Republicans critical of the federal government paying a portion of their health insurance should consider writing a check back to the Treasury.
In an interview Thursday afternoon, McCaskill – in Washington as lawmakers continue to mull a way forward in the debate over funding the government and raising the debt ceiling – suggested critics of the federal health care law, the key drivers of the shutdown debate, are being misleading when they suggest Congress is somehow exempt from the law.
"Congress and our staffs are required to shop on the exchange. I have to buy my insurance on the exchange. The only issue that is being debated is whether or not Congress and their staffs should get the employer contributions that we currently get, that members of congress and their staffs have always gotten," she said.
At issue is a regulation proposed earlier this year by the Office of Personnel and Management that would allow members of Congress and their staff to receive a government contribution toward their insurance premiums in the federal exchange. Lawmakers and staff have long been eligible for an exchange made up of federal employees where similar payments are made. But the Affordable Care Act requires lawmakers and a handful of their staff members to enroll in a new exchange beginning next year. The rule change aimed to allow members and their employees to receive similar subsidies in the new exchange.
Lt. Gov. Peter Kinder, R-Cape Girardeau, who is considering a run for Congress in the 8th Congressional District, penned an op-ed for PoliticMo and other media outlets last month critical of the rule change, accusing the bill's supporters of "scrambling to do everything in their power to prevent its being applied to themselves and the people who work for them."
"Does any Missourian – Democrat, Republican or independent – approve of this special treatment for members of Congress and their staffers," Kinder asked in the post. "Talk about a disconnect."
McCaskill said Thursday there is nothing requiring a member of Congress or their employees to take the federal assistance, and suggested if anyone is opposed to it, they should return the money to the Treasury.
"If you want to deny the staff employer contributions for their health care, you should lead by example and give up your employer contribution right now," she said. "It'd be a good idea if they write a back check for the years of employer contributions that most of them have received as government employees."
"By the way," McCaskill added, "Peter Kinder gets an employer contribution, and I think he recommended that we give up our employer contributions. He went so far as to encourage people not to sign up to get the benefits of the health care law. I think it is beyond hypocritical to say that the staffs of Congress should give up their employer contribution when the members that are advocating them are not willing to do it themselves."
McCaskill acknowledged Kinder's interest in challenging U.S. Rep. Jason Smith, R-Salem, but said she was not sure how the race would play out.
"They've had circular firing squad in their caucus here in Washington, and I don't know how that will play out in the primary," she said. "I honestly don't know enough about the dynamics in the Republican Party in Missouri right now. I know that Todd Akin's faction won the chairmanship of the party, but I don't know what faction Jason Smith is."
Earlier in the day, McCaskill and Senate Democrats met with President Barack Obama, where she said the president discussed how he is aiming to take the "weapon" of playing "games with defaulting on our obligations" out of the arsenal, "not just for our economy now, but for future presidents."