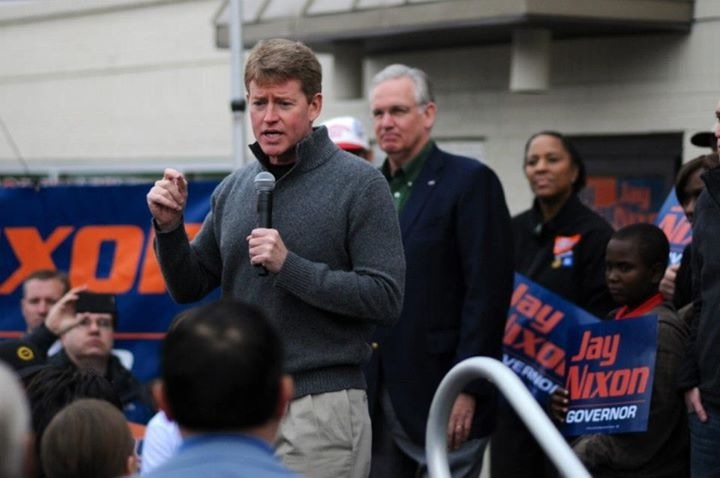 – The top contender for the Missouri Democratic nomination for governor in 2016 is remaining silent on what has become the defining political issue of the summer: Whether or not the General Assembly should override Gov. Jay Nixon's veto of income tax cut legislation.
Nixon has campaigned across the state against House Bill 253, highlighting the potential long-term financial impact of the bill on the state's coffers and an unintended tax hike on prescription drugs.
Attorney General Chris Koster, who has publicly acknowledged his interest in seeking the party's gubernatorial nomination in 2016, has nonetheless not weighed in on the issue, despite the potential impact on his office from dollars withheld by Nixon from various state programs for ex-criminal offenders and Missouri drug task forces.
Koster's campaign said any answer regarding Koster's official position would come from Koster's official office. Eric Slusher, an official spokesman for Koster, did not take a position for Koster.
"The Attorney General's office has no direct role in tax policy," Slusher said.
The issue has been described by House Speaker Tim Jones as a "litmus test" for Missouri Republicans who were six votes short of a supermajority when they voted on the bill this spring. But for Democrats, particularly those running in competitive competitive future reaces, the politics of the issue are less clear.
State Reps. Ed Schieffer and Jeff Roorda, for example, two of the three Democrats who voted for the bill originally and are running for state Senate seats in 2014, have not said whether they will switch their yes votes to noes. Roorda, in an email, said he was "keeping an open mind" on the issue.
Aside from $5,000 to state Treasurer Clint Zweifel in 2009, Koster is the lone statewide Democrat to have received campaign funds from Rex Sinquefield, the St. Louis billionaire who has contributed some $2.4 million to the "Grow Missouri" effort urging members to vote in favor of a veto override. Since switching his party affiliation from Republican to Democrat in 2007, Koster has accepted more than $300,000 from Sinquefield – $260,000 in 2012 and $75,000 in 2011 while running for reelection.
Missouri Secretary of State Jason Kander, a Democrat who has said he will seek reelection in 2016, said on Monday he supports Nixon's veto. Spokesmen for Zweifel, a Democrat whose political future is unclear as he is term limited in 2016, said he, too, supports the veto.
Lawmakers reconvene in Jefferson City on September 11 to cast override votes. The Republican caucus will meet later this month to decide which of Nixon's 29 vetoes they will seek to overturn. Republicans have touted the bill as the first tax cut in 100 years and as an effort to remain competitive in the economic border-war between Missouri and Kansas.