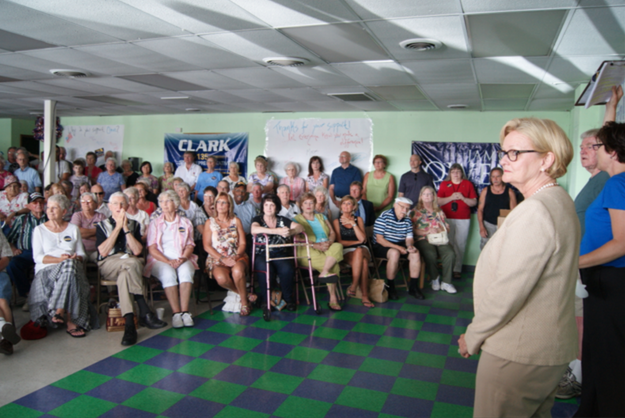 ST. LOUIS, Mo. – Statewide Democrats presented a united front Saturday night, pledging the full weight of the state party moving forward to assist legislative Democrats as the look to compete harder for House and Senate seats in 2014.
Party leaders from Gov. Jay Nixon to Sen. Claire McCaskill to Attorney General Chris Koster praised the work of soon-to-be outgoing chairman Mike Sanders during his recent tenure, as he is expected to leave the party in the coming months (perhaps as early as late June) to refocus his efforts on his day job as Jackson County executive.
As he prepares to leave, Sen. Claire McCaskill — acting with an even greater political vigor after her unlikely reelection in 2012 – told a small group of Democrats that she and others in the party are coming together to combine the large amounts of data her campaign collected in 2012 and the funds that can be raised by other state committees to reenergize efforts by House and Senate Democrats to win back seats in the General Assembly.
"If people decide the party is going to be the mechanism that will be the key to victory for elections, then everyone will pull together and decide that it is a priority," she said in an interview. "Traditionally, candidates have a tendency to prioritize their own races."
The united front presented by her and others acted as at least a public repudiation of the claim that there was some grand division or coup attempt being orchestrated among the top players in the state party. Still, while nobody said it explicitly, there was an undercurrent of criticism which flowed toward Nixon, who some privately argue focused too much on his own effort and less on lending a hand to Democrats who may have otherwise had a hope for success. Additionally, some have accused the party of being too quiet while Republicans have passed questionable bills having to do with the United Nations's "Agenda 21″ and "Sharia Law."
For his part, those close to Nixon say he wants to have a balanced approach – on one hand calling out Republicans where the party wants to be critical, but on the other being mindful that he has to work with them to secure votes to sustain his vetoes and not be boxed into a position on a bill by a press release or critical statement by the state party. McCaskill said she understands that and has had multiple conversations with Nixon about it.
"The governor has to work with this legisutare. I'm not saying that I want to use sharp elbows and be hyper-critical of legislators in Jefferson City," she said. "What I am saying is there is a thematic issue here about leadership in this state. I think our party is talking about and caring about the same things that most Missourians think about, and I think we need to do a beter job of expressing that."
One way where McCaskill sees potential success is is by using the troves of data collected by her campaign and the state party's coordinated campaign. The two operations collected political data on thousands of voters in swing areas and even Republican-leaning areas that helped her win in conservative areas like Greene County in southwest Missouri.
"We've got a lot of data. I don't think people fully comprehend the amount of data. Everyone was surprised by the margin of victory," she said. "If you look at the map, how many red places were blue in that Senate race?"
McCaskill said she believes that by using that data and targeting swing voters, the party could focus on defining Republicans as too "extreme" on a macro-level, much like she did to Rep. Todd Akin in 2012.
"I'm embarrassed of the Missouri legislature," McCaskill told attendees at the dinner on Saturday evening, claiming that the GOP has endorsed an "extreme agenda" she "first" learned about from Akin.
McCaskill, who has more than five years left in her term, said she understands that she could simply do nothing and focus on the federal issues, but claimed that was simply not the way she wanted to operate.
"I know we have work to do in terms of education and infrastructure, and I'm not going to just say it is not my job. I feel like it should be all of our jobs," she said.
One of the rising stars in the state party that will be joining her effort is Attorney General Chris Koster, the party's likely candidate for governor in 2016. Speaking at the dinner, Koster pledged to use his fundraising strength to assist Democratic legislative campaign committees with a boost of more than $400,000 over the next four years.
"Team play must begin now, here, tonight," he said. "Now it is time for Democrats to share out statewide strength with our legislative candidates."
Nixon had left the room at that point, but McCaskill said earlier in the day there should be no animosity assumed between the two.
"I know everybody is spoiling for some fight, but there isn't a fight. This is about us moving forward into the election cycle of 2014 fully prepared to point out to Missourians the choices they have," she said. "I think the governor agrees with me on that."
Over weekend, there was little to no talk about who might replace Sanders, and from conversations with a handful of state committee members, it appeared many of them did not know of any sort of immediate campaign to replace him. Former Bob Holden aide and Democratic communications strategist Roy Temple was rumored to be mulling seeking a post atop the party, but he was not seen in St. Louis over the weekend.
—
CORRECTION: An earlier version of this story incorrectly stated that Gov. Nixon left to attend a fundraising event with Gov. Patrick. Nixon did not attend that event.