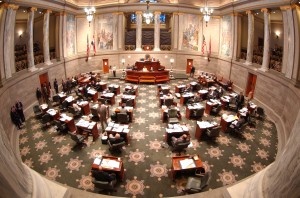 JEFFERSON CITY, Mo. – For a Republican like State Sen. Kurt Schaefer who is planning a run for statewide office, a fight against growth in state spending, particularly on social services, blows all the right whistles to catch the ear of the voters he hopes will support him in the primary.
Being partly in charge of $26 billion has its political perks, but in addition to the implications in a potential Republican primary, Schaefer on Tuesday laid out a policy case for his reasoning.
For Schaefer, his fight for smaller dollar amounts in lump sums for the Departments of Health and Senior Services, Mental Health, and Social Services is a fight over the growth in spending on social programs that he says are pulling money away from things like education.
After leading the Senate Appropriations Committee for five years now – an anomaly in an age of term limits – Schaefer said he has seen that when supplemental funding is added to the budgets for the departments one year, the next year it is added to its core funding – a cycle he said produces significant growth each year.
In this year's supplemental budget, Schaefer noted during a committee hearing on Tuesday, Democratic Gov. Jay Nixon has asked for $240 million in unanticipated spending for the departments.
Linda Luebbering, Nixon's budget director, said in addition to less revenue than expected in the funds devoted to social spending, there is "real growth" that was unanticipated in pharmacy spending and foster care.
That is extra spending that was not approved by the legislature responsible for appropriating, Schaefer said.
"This is the one area," Schaefer said, where he thinks the legislature has essentially said, "eat what you want, we'll get the bill and pay it."
Schaefer said with education spending – as well as spending on other programs supported by his opponents – it does not work the same way.
In recent budgets, lawmakers have worked to remove the "E's," notations that used to be in budget bills that signified "estimated amounts." For example, if a department was given $100 million "E," they could spend $100 million, or they could spend $110 million, with the other $10 million removed from another line item by the governor's administration.
When those "E's" were removed, the goal was to regain control of the budget from the governor's administration to the General Assembly.
But what Schaefer believes is that the Nixon administration has withheld money elsewhere in the budget in order to pay for growth in social spending down the line.
Critics of Schaefer – including a number of Republican lawmakers in the House and leaders like House Speaker John Diehl, Senate President Pro Tem Tom Dempsey and Senate Majority Leader Ron Richard – have expressed concerns with his proposal, including, while they respect his desire to rein in spending, a fear that it cedes authority back to the governor.
To them, Schaefer said Tuesday, he had news: "You have no control over this, anyway."