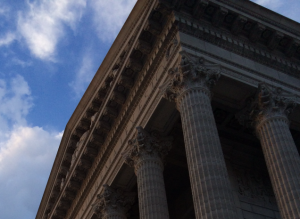 JEFFERSON CITY, Mo. – A group of Missouri Republican legislators on Thursday huddled in the office of Sen. David Pearce to announce their call for the resignation of John Hancock, the newly elected chairman of the Missouri Republican Party.
In an interview Thursday morning ahead of the announcement, Pearce said the party's silence on things like the tone of politics surrounding Schweich's young campaign for governor coupled with questions about whether Hancock led a "whisper campaign" that Schweich was Jewish ahead of his suicide two weeks ago were the impetus for his desire that the party would, again, elect a new leader.
"Since Tom Schweich's funeral, there has been nothing from the party that has talked about any changes we should make in politics, ethics reform, the role of consultants, and campaign finance. Nothing," he said. "The party has been eerily silent on all those issues, not to mention the controversy surrounding Schweich and Hancock. We just need new leadership to progress from here."
Even as Pearce, Sen. Mike Parson and Sen. Gary Romine made their opposition to Hancock known, members of the Missouri Republican State Committee – Hancock's constituency of 68 — have stood by their chairman. After the tumultuous tenure of his predecessor, Ed Martin, who struggled to finance the party's operations, Hancock was elected last month with more than 50 votes and a mandate to lead the party into the 2016 election cycle.
Pearce agreed that Hancock did "enjoy a very comfortable margin," but said the signal from elected officials should be meaningful to the committee.
"I haven't talked to a lot of the committee members," he said. "This does show there are some in the Senate and elected officials who feel there are some issues the party needs to address."
Pearce – who had not endorsed anyone in the governor's race prior to Schweich's death – said he did not know if Hancock had led an anti-Semitic campaign against Schweich as some have suggested.
"There's been some things we can learn from it — the terrible tone of negative advertising, the radio commercial that tom Schweich was 'like a bug' — that's intolerable," Pearce said. "To just say it's businesses as usual and too bad – that's unacceptable. That's why I think we need change at the top."
The announcement by lawmakers came at the some time as Hancock started his own media blitz on the radio station where he works, KMOX. Hancock has dug in, denying the allegations and made clear his intention to stay on as chairman of the party.