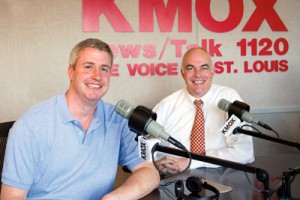 JEFFERSON CITY, Mo. – After two weeks of fighting charges of anti-Semitism with emailed statements, Missouri Republican Party Chairman John Hancock on Thursday is planning to face the charges leveled by those close to the late State Auditor Tom Schweich that he led an anti-Semitic campaign face to face.
Hancock, who was elected late last month with overwhelming support from the Missouri Republican State Committee, will participate in an interview on KMOX in St. Louis at 9 a.m., followed by interviews with various television stations and other news outlets later in the day.
"I look forward to telling my story so we can all move on and get to the work of unifying our party during this critical time for our nation," he wrote in an email obtained by PoliticMo.
Hancock's media blitz comes as a number of Republican lawmakers, including Sens. David Pearce, Mike Parson, Wayne Wallingford, and nearly a dozen state representatives planned to call for his resignation on Thursday morning in Jefferson City at 9 a.m.
Hancock made his plans known in an email to members of the state committee on Wednesday evening:
"Over the past four months, I have dealt with false rumors spread about statements I allegedly made about Auditor Tom Schweich's religion. As you know, those allegations became very public following Tom's tragic death two weeks ago. Tomorrow morning, it is time to finally tell my account of the events leading up to this tragedy.

I will make an initial statement and take questions on KMOX radio tomorrow at 9:00 am, followed by interviews with various media outlets throughout the day. While I have been in touch with many of you before and after the chairman's election on this topic, I encourage you to listen at

kmox.com

.

Additionally, I wanted to direct you to a

new St. Louis Post-Dispatch story

detailing the final days of Tom Schweich's life. This is the most accurate and complete account of this story I have seen to date, and it confirms that the charges against me were based solely on an account from a Kansas City businessman with whom I have never met nor spoken."
Aside from a handful emailed statements, Hancock has remained quiet since Schweich's apparent suicide two weeks ago.
Most recently
, Hancock denied charges leveled by Scweich's former chief of staff, Trish Vincent, that Hancock had told her that he had said Schweich was Jewish.