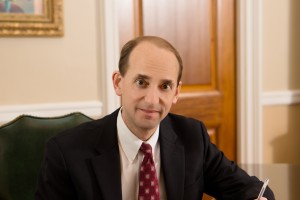 JEFFERSON CITY, Mo. – John Hancock, the new chairman of the Missouri Republican Party, did not plan to be in Jefferson City on Tuesday.
But when rumors spread throughout the Capitol and made their way to members of Congress in Washington that state Auditor Tom Schweich, one of the Republican candidates for governor, was going to hold a press conference to highlight what has been described as a serious accusation about alleged comments made in the past by the new chairman of the Missouri Republican Party, Hancock swooped into town to push back.
The event did not happen, and a Schweich spokesman did not respond to multiple requests for comment about the allegations. Nonetheless, Hancock was working the halls of the first floor near Schweich's office, meeting with journalists, his wife alongside, to preemptively address Schweich's alleged-allegations. The plan was if Schweich were to have an event making an accusation that Hancock would attend and make Schweich say it face to face.
Among Republicans, even over the weekend at Lincoln Days, the charge has been floated that Hancock at some point made an inflammatory comment to a Jewish donor. In most cases, the charge originated from Schweich's team. Hancock has denied the charge.
What is widely known is that the two do not have a good relationship. Hancock did some early research for Catherine Hanaway's campaign. Hancock has pledged to not work with any Missouri candidates now that he is chairman, but the awkwardness between the two is still there.
Hancock's rise to chairman came at the same time Schweich's chief of staff, Trish Vincent, lost her position as vice-chairman of the Missouri GOP.