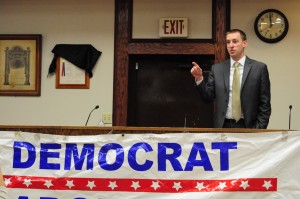 COLUMBIA, Mo. – If Secretary of State Jason Kander had his way, the 2016 U.S. Senate race would be about whether Missouri voters are happy with the way things are going in Washington, D.C., and about his belief that Republican U.S. Sen. Roy Blunt is the epitome of the problems facing the nation's capitol.
Kander, the Democrat who announced his campaign against Blunt last Thursday, made his first campaign appearance on Monday night at a packed Elk's Lodge hall here in mid-Missouri. Kander spoke vividly about his early career in the military, contrasting it with Blunt's decades in Congress.
"The folks in DC, they're not representing us," he said. "They stand up for each other, special interests, millionaires and huge corporations. They stand up for anyone other than who sent them in the first place."
Blunt "has been in Washington so long," Kander said, that, "Washington has become his home. Lobbyists and his political party have become his constituents."
Kander laid out a myriad of criticisms of Blunt – noting his pricy Washington home, "more than 100" flights on corporate jets, and the fact that Blunt made it on watchdog group lists as "one of the most corrupt members of Congress." In contrast, Kander detailed his own time in Afghanistan where he said he, "advised whether to remove corrupt officials" from government.
Kander's message, in many ways, is similar to the message used by Blunt's last Democratic opponent, former Secretary of State Robin Carnahan,that Blunt has become a creature of Washington who is out of touch with his home state.
"If you elect me Missouri's next Senator, you'll never lose me to Washington," Kander said.
Blunt, during a brief interview on Saturday, said he would not weigh in on Kander's entrance into the race against him.
Nonetheless, the National Republican Senatorial Committee on Monday has already begun its effort to define Kander as Washington's pick for U.S. Senate, noting Kander's early support from Missouri's other U.S. Senator, Democrat Claire McCaskill.
"With Missouri Democrats calling Jason Kander an 'extraordinarily ambitious' politician, the turbulence subsided once Air Claire McCaskill got the Washington establishment on board," said NRSC spokesman Jahan Wilcox in a statement on Monday. "Missourians should be worried that Kander is Washington's handpicked candidate."