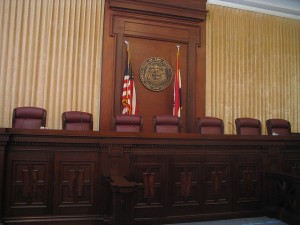 JEFFERSON CITY, Mo. – The Missouri Supreme Court on Tuesday overturned a lower court's decision to not hear a same-sex divorce case, but did not weigh in to the larger issue of same-sex marriage, which is banned here by the state's constitution.
In a unanimous decision, the Supreme Court sent the case back to the circuit court.
"The circuit court dismissed the action," wrote Judge Richard B. Teitelman, "on grounds that it lacked subject matter jurisdiction and constitutional and statutory authority to dissolve the marriage due to the state constitutional and statutory bans on same-sex marriage."
"While the circuit court had subject matter jurisdiction over this civil case," he added, "this Court expresses no opinion as to the merits of any aspect of this case, including the constitutional or statutory authority of the circuit court to dissolve a same-sex marriage."
Missouri is one of a shrinking number of states with a same-sex marriage ban on the books. The U.S. Supreme Court is set to address the issue later this spring.