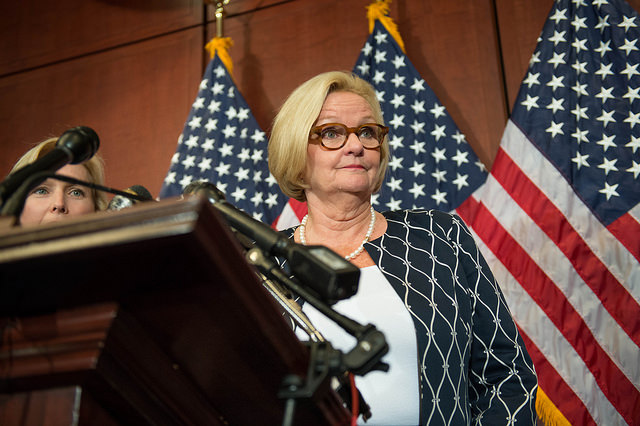 Democratic U.S. Sen. Claire McCaskill on Monday said she will not run for governor in 2016 in an attempt to end speculation about a potential bid against the party's current favorite, Attorney General Chris Koster.
McCaskill made the announcement during an appearance on the radio program, "Up To Date," hosted by Kansas City Star political writer Steve Kraske.
"I'm convinced were I can have the most significant impact is in the U.S. Senate," McCaskill said. "The work is too important, the job is too rewarding and too fulfilling… I just don't feel I can turn away from it."
Instead, McCaskill said she will support Koster's campaign and work on another effort to get an ethics reform measure on the ballot in 2016.
"I'm going to spend a lot of time and energy on cleaning up the embarrassment we have in Missouri when it comes to ethics," she said. "We have a billionaire by the name of Rex Sinqueifeld who is trying to buy the government."
Polling by other candidates and issues in recent months did not look promising to McCaskill, a Democrat who in her two most recent elections had been emboldened, in part, by weakened Republican opponents. In recent weeks, McCaskill's team pulled the plug on a new internal poll — a sign at the time that McCaskill was shying away from the idea of a run.
McCaskill had begun to flirt with a run early last fall after some in the Democratic party's base had started to raise concerns about Koster, a former Republican, particularly citing his support for the controversial "right to farm" ballot measure.
For much of her life, McCaskill had dreamed of holding the job. During a speech to the Chicago Humanities Club in 2010, McCaskill explained her unsuccessful campaign for the job in 2004.
"By the time I was 12 or 13 years old, I had some teachers tell me I should run for governor someday. My mother, of course, loved the idea as you might imagine, and so she reinforced it – my father did too – pushing me into speech contests, the debate squad, and law school. There was always this undercurrent that I was going to be the first woman governor of Missouri. I focused on this goal for a long, long time," she said at the time.
While she successfully challenged Democratic incumbent Bob Holden in a primary campaign, she later lost to Republican Matt Blunt in the General Election.
By opting against another inter-party fight like hers in 2004 against Holden, McCaskill's move eliminates the most high-profile Democratic challenge from Koster's way.
On the Republican side, former House Speaker Catherine Hanaway has already announced her campaign, and state Auditor Tom Schweich, another Republican, is also considering a run.