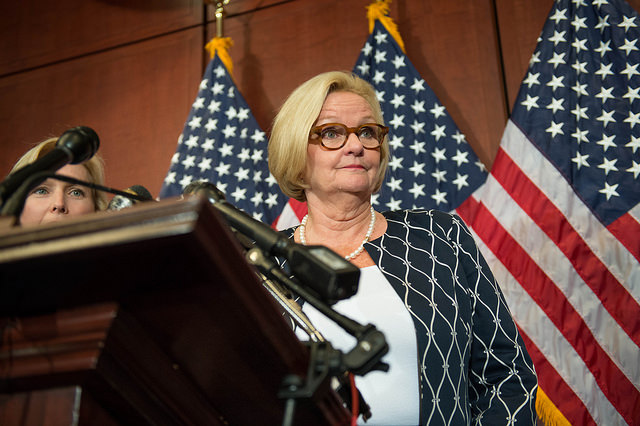 Kansas Democratic Chad Taylor terminated his U.S. Senate campaign Wednesday, clearing the way for a two-way race between independent candidate Greg Orman and Republican Pat Roberts as the embattled incumbent seeks a fourth term.
Taylor's exit puts the Kansas seat back in play for Democrats hoping to weaken Republicans in their quest to take back control of the upper chamber for the final two years of President Obama's term.
The late change appears to be placing Kansas in the same place Missouri was two years ago: In the center of the political universe as an unexpected opportunity for Democrats to take a win away from the GOP in a race that was not even supposed to be competitive.
Here in 2012, Democratic U.S. Sen. Claire McCaskill made a gamble to back Republican Todd Akin in the three-way Republican primary. Akin won, and the rest is legitimate history. Nearly two years later, some are asking whether McCaskill – whose political stock has been on there rise since her 2012 victory – was involved again.
Wednesday night, hours after Taylor's announcement, an aide to McCaskill said she did speak with Taylor in recent weeks surrounding his decision to drop out.
"Claire did talk with Chad Taylor and was happy to," the aide said. "She thinks very highly of him and thinks he has a very bright political future. And she knows these decisions are both hard and personal."
McCaskill's involvement comes as she has been working to raise her profile as a party leader. In Missouri, McCaskill has led Democratic efforts to take back seats in the Legislature and contributed $200,000 of her own money to the cause. Nationally, McCaskill has said she will back Hillary Clinton for president. She was one of the first Senate Democrats to support the "Ready for Hillary" PAC, and has traveled to Iowa to campaign for her.
Last week, the Kansas City Star reported that the former state Representative and state auditor was even flirting with a run for governor. McCaskill has made no secret her hope to be Missouri's first female chief executive.
That 2016 question for McCaskill, the report noted, may have something to do with what happens in 2014's U.S. Senate elections.