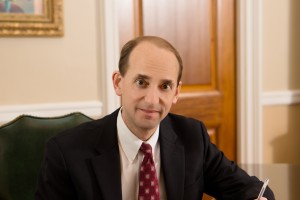 JOPLIN, Mo. – Democrats appear ready to take a pass on the only statewide race this year – challenging Republican State Auditor Tom Schweich – and focus instead on their efforts to win back seats the legislature and mount successful statewide challenges in 2016.
With less than a week remaining until candidate filing closes, no Democrat has filed to challenge Schweich – who, on the stump, has began to sound increasingly focused on his possible 2016 campaign for governor.
U.S. Sen. Claire McCaskill, the last Democrat to win the seat back for the party following Republican control, won the seat in 1999 during an open-race against Chuck Pierce, a Republican who had served as deputy auditor for more than a decade. McCaskill won the seat in the same election that Republican U.S. Sen. Kit Bond staved off a Democratic challenge from then-Attorney General Jay Nixon.
"Statewide campaigns, especially down-ballot races, are expensive and they're hard to raise money for," McCaskill said in an interview in Joplin, after rallying local Democrats to stay engaged in the fight to take back seats in the General Assembly. "We tried to find someone who had a base of fundraising that could raise enough to be credible, but people understand that if you can't put together at least $1 million, it is really tough."
The last Democrat to hold the seat was Susan Montee. She won in 2006, a great year for Democrats, but lost to Schweich in the Republican wave election in 2010 when Roy Blunt ran a successful U.S. Senate campaign.
Late last year, a Democrat did test the waters for a potential challenge to Schweich. State Rep. Jay Swearingen, D-Kansas City, campaigned for a couple of months but was unable to gain any traction or pull any significant level of financial support. At one point, Schweich had a 25 to one cash advantage over Swearingen.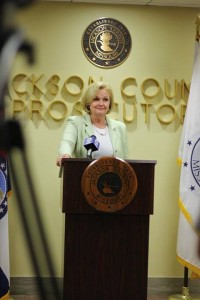 McCaskill – who jumped into the race at the time only after the urging of then-Democratic Gov. Mel Carnahan – said a successful candidate for a down-ballot race such as state auditor would really need a significant jumping point. For her, it was her post as Jackson County prosecutor.
"I had a group of people who had been my supporters and friends and they wanted to help," she said. "If you don't have someone who is an office like that who is willing to take the jump, then I think other people are hesitant, too."
State Legislature
With a lack of real statewide race, Democrats are instead turning their attention to their effort to take back a handful of seats in the Missouri House of Representatives for Democrats. On Tuesday, another round of Democratic hopefuls converged on the Secretary of State's office to file paperwork to challenge Republican candidates.
In the three closest districts for Republicans in 2012, incumbents are not seeking reelection. Democrats are mounting challenges in places like House District 150 (held by outgoing Rep. Kent Hampton, the Republican who won with the closest margin in 2012 – a 116 vote spread), House District 17 (being vacated by Rep. Myron Neth, who won his suburban Kansas City district with 1.2 percent of the vote), or House District 90 (being vacated by House Budget Committee Chairman Rick Stream, who is term limited). Rep. Elaine Gannon, a De Soto Republican who won by 233 votes in 2012, is seeking reelection. And she, in turn, is facing a challenge. Democrats are backing Dan Darian, the De Soto Democrat who challenged Gannon in 2012.
Backed by a significant cash boost from Attorney General Chris Koster's campaign, Democrats are readying to focus on a handful of seats where they believe they can have meaningful success. Koster, the party's likely Democratic nominee for governor in 2016, and McCaskill have led an effort to pool data collected by their campaigns to identify rural moderates that are open to supporting Democrats, despite their traditional electoral history. That data is being provided to candidates for state House seats to be applied in their own districts – identifying not only voters who are likely Democratic voters in these rural communities, but also voters who the successful Democratic statewide campaigns of 2012 were able to sway in their favor.
2016 Watch
Ahead of 2016, Democrats may be playing a sort-of game of chess. A lack of a Democratic nominee for auditor may be politically challenging in 2014, but a boosted-Schweich heading into a possible 2016 gubernatorial campaign could pay off in the form of a Republican primary.
When former House Speaker Catherine Hanaway announced her candidacy for the Republican nomination for governor earlier this year, Team Schweich wasted no time in fighting back. Even before she officially announced, Schweich's team began a quiet campaign to attempt to weaken Hanaway's conservative credentials. The topic? Guns. In 2003, Hanaway opposed Missouri's conceal-carry law, causing the National Rifle Association to give her a D rating at the time. She ultimately supported the bill (and was part of the effort to successfully override Democratic Gov. Bob Holden's veto) and regained an A rating, but her initial opposition is still being made a target. Even Koster, a Republican at the time, campaigned for the bill.
Hanaway, in an interview at the Missouri Republican Party's Lincoln Day gathering in February, acknowledged a "bad-vote", but defended it as "voting for the people in my district," who overwhelmingly opposed the measure when it was on the ballot.
The early gun episode in the potential 2016 Republican primary has been subtle, but could be a sign of more to come. A dirty, 2012-Republican-U.S. Senate-Race-esque primary, Democrats ponder, could be the trick to getting a weakened, potentially Todd Akin-like candidate the nomination – easing Koster's shot at the Governor's Mansion.
When Koster – has the most to gain from a weakened Republican nominee in 2016 – was asked about why there wasn't a Democratic nominee while leaving a Democratic event in Hannibal earlier this year, he shrugged.
"I'm not running for state auditor," joked Koster – the new, de facto leader of the state Democratic party. "You should ask Governor Nixon about that."