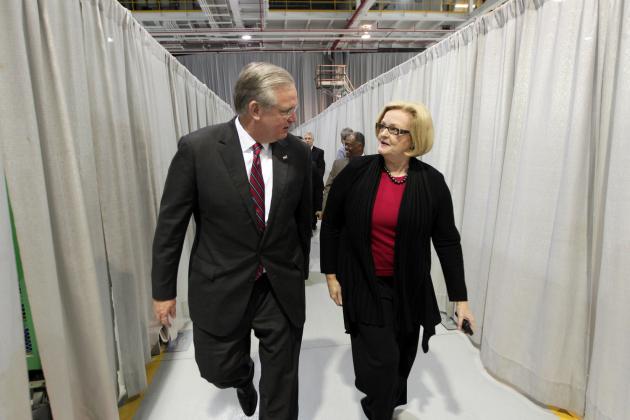 – Just a few days remain until the United States is expected to breach its debt limit, and without congressional action to raise the borrowing limit, some Missouri officials fear the worst.
Gov. Jay Nixon, who has previously claimed a long-term federal shutdown or a default on the federal government's obligations could harm Missouri's AAA credit rating, said Friday that lawmakers in Washington need to find a solution sooner rather than later.
"When you sit down and go through the parade of challenges we could have not just as a state, but as a nation, they need to reach a consensus on that and move forward," he said.
Nixon added that he did not want to give anyone blame for the shutdown, and said he and other governors are urging Washington to simply work out the issues.
"I think we are united regardless of what party we're in that these are the basic responsibilities of government: to get a budget, to pay your bills," he said. "While America's been upset by this, I think governors are uniquely positioned to provide a calm voice, and not point fingers and look at it as a political thing, but look at it as a shared state and American responsibly."
U.S. Sen. Claire McCaskill, D-Mo., met with President Barack Obama and other Democratic Senators at the White House on Thursday, where she Obama reiterated that he would not negotiate over what he sees as the necessity of raising the debt limit, which allows the federal government to continue paying its bills.
"It is completely unreasonable that the Tea Party would shutdown the government over our refusal to give up the health care bill that all of us fought for and believe in and that the president ran on," McCaskill said in an interview on Thursday.
She added she was "disappointed" Nixon was not more clear about where the blame should lie.
"I would recommend that the governor spend a little more time more closely following the debate in Washington about the budget impasse so that he can help inform Missourians that Ted Cruz is not right, he should not shut down the government because they lost an election," she said.
Of Missouri's $24.8 billion budget, some 33 percent comes from federal spending, State Treasurer Clint Zweifel wrote in an op-ed last week. He said without a federal fix, "states would be forced to accept the shutdown of these programs for find funds to fill the gaps." State budget officials have said federal funding is likely to dry up by the end of the month.
Nixon has already suggested using state resources to reopen places like the Ozark Scenic Riverways in southeast Missouri and the Gateway Arch in St. Louis in order to not lose some of that economic impact, particularly with the St. Louis Cardinals' potential for success this year.
"I think that one of the reasons that we need to continue to work to get the Arch open is so unruly Boston Red Sox fans aren't wandering around downtown without something to do," he joked.