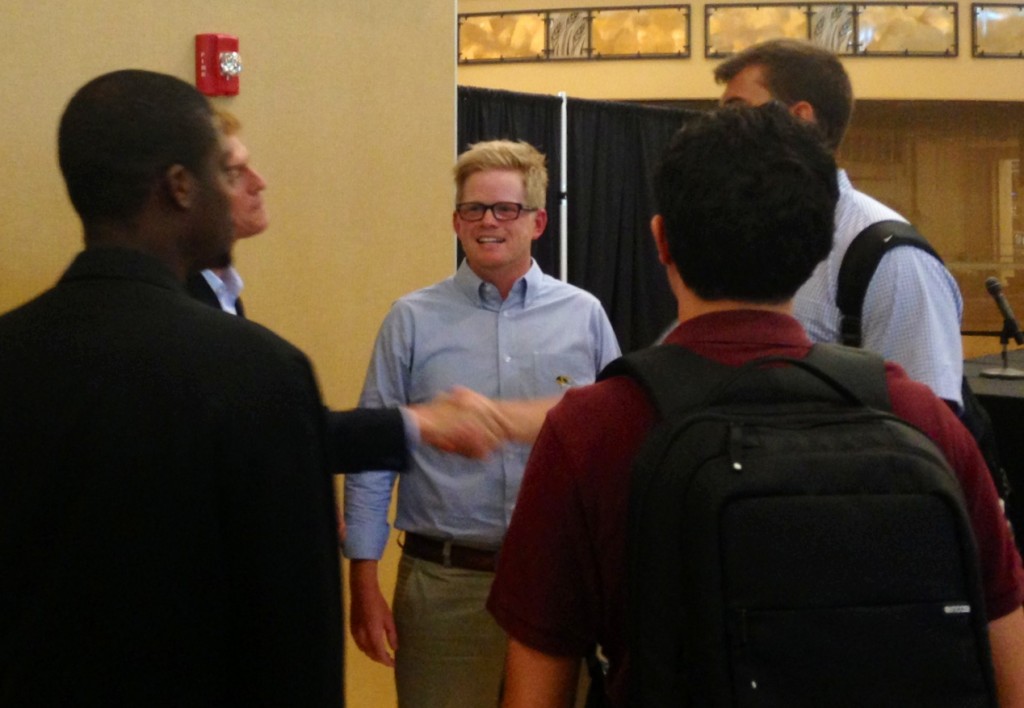 COLUMBIA, Mo. – A few hundred students gathered at the University of Missouri Thursday evening for a rally aimed at urging the legislature to sustain Gov. Jay Nixon's veto of controversial income tax legislation.
The event featured several opponents to the legislation, House Bill 253 – including University of Missouri System President Tim Wolfe, Mizzou Chancellor Brady Deaton, and Democratic lawmakers Chris Kelly and John Wright. But among them appeared another member, a Republican, who told the crowd he is still undecided about whether he will sustain Nixon's veto.
State Rep. Caleb Rowden, a Columbia Republican who originally voted for the bill, said he was unsure how he will vote if the legislation – which would slash corporate taxes while providing for a slim reduction on personal income tax rates – came up for override.
"By September 10 when I go to bed, maybe I'll know," Rowden said. On stage, he did seek to offer a counter argument to the contentions made by the bill's Democratic opponents. Rowden said the idea that the U.S. Congress would pass the Marketplace Fairness Act – key to Nixon's concern that the state might be responsible for at least $800 million in retroactive tax rebates – is incredibly unlikely. Furthermore, he pledged to "fix" the parts of the bill deemed objectionable by Nixon, including the tax increase on text books and prescription drugs.
Less than a week before veto session, Rowden said the numbers are holding him up from making a decision.
"There are plenty of numbers — you can dig very, very deep," he said. "They're my own — the numbers will be coming from me. We're looking at other states, making those. I will have all of that information by the weekend."
Rowden, who won his district by just 220 votes last November, said he was not getting pressure from Missouri House Republicans pushing for a vote. And even if he was, he said, he "couldn't care less."
"I'm not making a vote based on a threat from either side," he said, mindful that he is a clear target for Missouri Democrats aiming to pick up seats in the General Assembly next year.
Rowden is not the only skeptical Republican. In fact, at least six Republicans have actually publicly said they will vote against an override attempt – including Reps. Don Phillips, Nate Walker, Mike Thompson, Jeff Grisamore, Dennis Fowler, and most recently, David Wood.
House Speaker Tim Jones, R-Eureaka, has repeatedly said if he does not have unanimity from his 109-member caucus, he will likely not be able to override Nixon's veto. Rowden pointedly said  "it is dead" without their support, and "[a]s of now, that is where it is."
Kelly, a Columbia Democrat, was critical of the bill's original supporters for voting in favor of it and not realizing it included the prescription drug and text book sales increases.
"Not one of those people read the bill. Because you can't read the bill and not find those errors," he said. Adding in the potential for rebates if the federal government were to actually move on the Marketplace Fairness Act, Kelly added: "What would happen to you as a student if you turned in a tax paper with $1.5 billion on mistakes? You'd get an 'F.'"
Rowden said he was not sure whether Jones would even bring the bill up for a vote when lawmakers convene for veto session next Wednesday.